Great job!
That's a microcosm of what Blair and other Western leaders (US included) have done on a national scale. It's the price the people have to pay for having ignoramuses in government, and for having propagandists in academia.
H/T: EDL Buck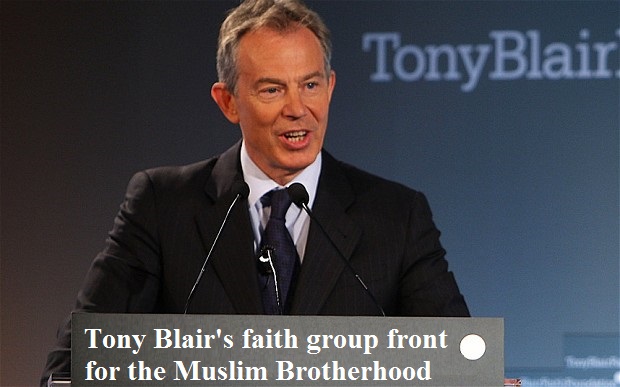 Tony Blair's religious charity's 'links to extremism': Advisers claimed to be tied to the Muslim Brotherhood which is being investigated by British spies
Two men tied to controversial Islamic group said to be party of charity

The Tony Blair Faith Foundation was set up by Mr Blair in 2008

Advisor Dr Ismail Khudr Al-Shatti has alleged link to extremist group
Is said to be leading member of Kuwaiti branch of the Brotherhood

Bosnian Muslim Cleric Mustafa Ceric also accused of having ties

David Cameron has asked intelligent agencies to look into Brotherhood's activities at home and abroad

By WILLS ROBINSON
PUBLISHED: 12:40 GMT, 13 April 2014 | UPDATED: 17:24 GMT, 13 April 2014
Tony Blair's religious charity has links to an Islamic extremist group being investigated by MI5 and MI6, it has been alleged.
It has been claimed that two Muslim leaders, who have ties to the Muslim Brotherhood, are advising The Tony Blair Faith Foundation.

The organisation has been declared a terrorist group in Egypt and Saudi Arabia, and could be banned in Britain, despite insisting they do not have links to extremist factions. 
Extremist links: Tony Blair, who set up the religious charity in 2008, has been accused of taking on controversial Muslim advisers
The Global Muslim Brotherhood Daily Watch, which has been looking into the group for 13 years, revealed that Dr Ismail Khudr Al-Shatti, an adviser to the Kuwaiti government and a member of Mr Blair's advisory council, is a leading member of the Kuwaiti branch of the Muslim Brotherhood. the Islamic Constitutional Movement (ICM).