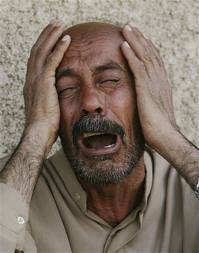 Former local education head shot dead in Benghazi
By Noora Ibrahim.
Benghazi, 8 April 2014:
A former head of education for one of the districts of Benghazi has been shot dead in the city.
Mohammed El-Lasi, who was a former head of education for the Laithi district, was killed after being shot multiple times on Sunday, a source at the Benghazi Medical Centre told the Libya Herald.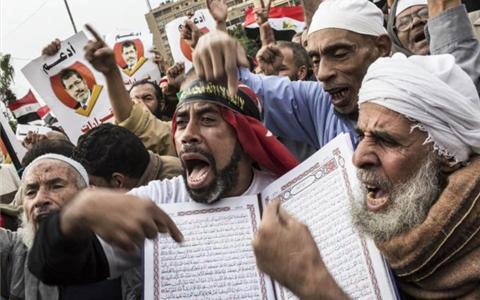 Family Feud Resumes in Southern Egypt, Killing 2
ASWAN, Egypt April 5, 2014 (AP)
By HAGGAG SALAMA
Clashes between an Arab clan and a Nubian family resumed Sunday in Egypt's south, killing two people and wounding four, health officials said, leaving the tourist city of Aswan on the edge despite a high-profile government effort to end the bloodshed.
The bloody clashes, which began Friday, have so far claimed 25 lives. Gunfights broke out outside the local hospital and morgue near the city's center, a few kilometers (miles) from the tourist hotels and its commercial areas.
An angry mob from the Arab clan torched more new Nubian homes Sunday after collecting the bodies of their relatives to bury. The attack pushed armed Nubians into the streets, sparking pitched gun battles. Police struggled to break up the mob outside the hospital. A military helicopter flew over the area.
Locals meanwhile complained of the inability of security forces to halt the vendetta violence.
Iraq attacks kill 19 as soldiers ambush militants
Civilians and security forces inspect the site of a car bomb attack in Tuz Khurmato, 210 kilometres north of Baghdad, Iraq, Tuesday, April 8, 2014. – AP Photo
Published 2014-04-09 07:47:13
BAGHDAD: Attacks in Iraq left 19 people dead Tuesday while security forces said they killed 25 militants near Baghdad amid worries insurgents are encroaching on the capital weeks ahead of elections.
The latest violence is part of a protracted surge in nationwide bloodshed that has left more than 2,400 people dead since the start of the year and sparked fears Iraq is slipping back into the all-out sectarian fighting that plagued it in 2006 and 2007.
The unrest has been driven principally by anger in the Sunni Arab community over alleged mistreatment at the hands of the Shia-led government and security forces, as well as the spillover from the civil war in neighbouring Syria.
In Tuesday's bloodiest incident, soldiers killed 25 militants in an ambush southwest of Baghdad, the capital's security spokesman Brigadier General Saad Maan said.
Maan said the fighters were part of the jihadist Islamic State of Iraq and the Levant, and were planning to attack an army base they had attempted to hit last week.
10 more killed as Taliban clashes rage in SWA
PESHAWAR: Ten more militants were killed and six others injured in clashes between two groups of the outlawed Tehrik-e-Taliban Pakistan (TTP) on Tuesday in the Shaktoi area of South Waziristan Agency (SWA)
Taliban sources said that fighting between two militant factions started on Monday after militant leader Kasheed Mehsud, along with his four bodyguards, was gunned down by unknown armed men in Shaktoi.
According to sources, 10 militants were killed and six others injured in the fresh clashes between the fighters of the two groups. The injured militants were brought to hospitals in Mir Ali and Miranshah and were being treated for their bullet injuries.
The Taliban sources said the killing of Kasheed Mehsud had sparked the latest violence in the Taliban-controlled Shaktoi area of South Waziristan.Kasheed Mehsud, 35, was said to be the first militant commander killed for his anti-talks stance.
At least 20 killed in blast at Pakistan market
Aamir Qureshi/AFP/Getty Images – Pakistani security officials inspect the site of a bomb explosion in a fruit and vegetable market in Islamabad on April 9, 2014. The blast killed at least 18 people and wounded 50 others in Islamabad's bustling fruit and vegetable market, police and hospital officials said.
By Shaiq Hussain, Updated: Wednesday, April 9, 10:15 AM
ISLAMABAD — At least 20 people killed and over 80 injured in an early morning blast here on Wednesday in a fruits and vegetables market on the outskirts of the city, police and doctors said.
The blast was said to be high-intensity explosion and Pakistan's capital city police said that around 5 kilograms of explosives were planted in crates of guava fruit that were brought from different cities to be sold at the market. The detonation left a foot deep crater and damaged nearby stalls and some vehicles.
Son of slain Afghan reporter on road to recovery, Ukrainian parliament fistfight, the dunes of Titan and more.
The doctors at Pakistan Institute of Medical Sciences put the death toll at 20 and they said that 80 injured people, some of them in critical condition, had been taken to hospitals in Islamabad and in nearby Rawalpindi.
Among those killed and injured were fruit sellers, early morning shoppers and laborers.
"I had gone to the market for buying fruits when the explosion took place. It was huge and I fell on the ground by its intensity. When I regained senses I saw dead bodies, blood on ground, injured people crying for help and others running here and there in panic," said an eyewitness, Murad Khan, 40, who received minor bruises in the blast.