Hey Erdogan, now that I know you and your creep peeps read the Tundra Tabloids, here's another pic for you to get angry and fume about.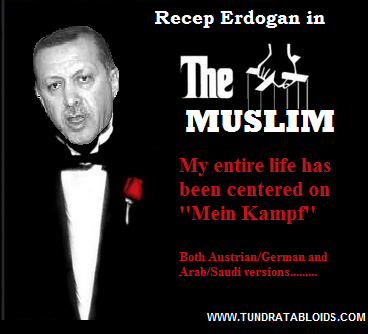 "I remember him very well: He came from a simple family and was an indrawn boy who would get angry very fast. He would walk around with a copy of Adolf Hitler's 'Mein Kampf,'" Krispin recalls. "Over the years I learned that he hates us and is afraid of us. He believes we have bionic powers and are capable of destroying everything he builds, even from far away."
Erdogan's former classmate blasts anti-Semitism on Turkish TV
Aharon Krispin of Tel Aviv still remembers how Turkey's prime minister used to walk around school with a copy of Hitler's 'Mein Kampf.' Now he is irritated by a new series in which a Turkish hero fights a religious Jew.
Smadar Perry
04.08.14, 01:18 / Israel
Avraham Krispin from Tel Aviv, a former classmate of Turkish Prime Minister Recep Tayyip Erdogan, gets irritated every Wednesday evening at 8 pm when he sits in front of the television and watches the TRT channel, Turkey's national public broadcaster.
The channel, which is broadcast in Israel by the HOT cable company, airs a popular series called "Kizil Elma" ("Red Apple"), which contains anti-Semitic messages that remind Krispin of the most annoying boy in class – Recep.
"I see how director and producer Osman Sinav, who carries a history of Israel hatred and Holocaust denial, leads to an anti-Semitic development in the plot," Krispin says angrily. "The story, which was meant to glorify Turkey and Erdogan, takes a negative turn against us, as the Jewish and Israeli identification marks appear on the screen."
Krispin was born in Istanbul and immigrated to Israel in 1974. His classmate from the first to the fifth grade was none other than the current Turkish prime minister, who is not known as a big fan of Israel.