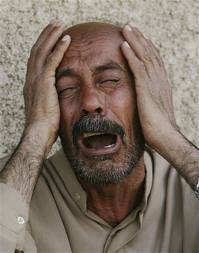 Armed Libyan group detains over 50 Egyptian trucks to protest prosecution of Libyans in Egypt
TRIPOLI, Libya –  Officials say militiamen in Libya have detained over 50 Egyptian trucks on the road to the country's east to protest the prosecution of members of their group in Egypt on arms smuggling charges.
Libyan Interior Ministry spokesman Rami Kaal said Saturday that gunmen prevented the trucks from entering the city of Ajdabiya. He says drivers and passengers have been waiting with their vehicles on the side of the road since Friday. He says trucks with perishable goods were allowed to pass.
23 killed in bloody feud between Arab, Nubian families in Egypt
A masked Egyptian policeman checks the identity of a bus passenger at a checkpoint outside of Cairo University, a day after a series of three bombs went off, killing a police general and wounding seven people, in Giza, Egypt, Thursday, April 3, 2014. (AP / Ahmed Abdel Fattah, El Shorouk)
Haggag Salama, The Associated Press
Published Saturday, April 5, 2014 10:23AM EDT
LUXOR, Egypt — A bloody feud in southern Egypt between an Arab clan and a Nubian family killed at least 23 people in two days of fighting, leaving bodies strewn on hospital floors and homes torched in its wake, government officials and witnesses said Saturday.
An Interior Ministry statement said the fighting in Aswan province erupted over the harassment of a girl and students from the two sides later spray offensive graffiti at local school. Vendetta killings are common in southern Egypt, where perceived violations of honour often spark violence, but this violence apparently raged while security forces did nothing to stop it.
Nubian students' graffiti accused members of the Arab Haleyla clan of working for the former governments of ousted President Hosni Mubarak and overthrown Islamist President Mohammed Morsi, witnesses said. They said offensive graffiti sprayed earlier this week on the school wall accused the Nubians of backing the military after a community delegation met former military chief Abdel-Fattah el-Sissi. El-Sissi, who led the military overthrow of Morsi, is now running for president.
A security official also said tensions come from accusations that some Arab Heleyla members take part in an arm and drugs smuggling ring. Aswan is a way station for a smuggling ring from Sudan. The official spoke on condition of anonymity as he wasn't authorized to speak to journalists.
A Nubian resident who asked not to use his name for fear of retribution said he locked himself and his family inside their house, fearing revenge attacks. He said two members of his family were killed in the fighting.
"There is terror now in the area," he said. "At the outset, we'd call the police and they tell us, 'You work it out."'
Authorities said more than a dozen schools in the area of the infighting will be closed indefinitely until calm is restored.
Syrian reported killed in Jordan camp clashes
Anti-riot police move into Zaatari refugee camp following protests over ill treatment and injury to four-year-old.
Last updated: 06 Apr 2014 02:25
Zaatari is home to 70,000 Syrian refugees [Dahr Jamail/Al Jazeera]
At least one Syrian refugee has been reported killed in Jordan's sprawling Zaatari camp when hundreds of refugees clashed with security forces, residents said.
They said scores were injured on Saturday as anti-riot police used tear gas to disperse stone-throwing refugees who set fire to official offices and caravans.
Jordanian police blamed agitators who were arrested after trying to flee the refugee camp of nearly 70,000 residents.
Witnesses told the AFP news agency that a Syrian woman was killed. Jordan's Public Security Directorate denied the report.
"Dozens of Syrian refugees at the Zaatari refugee camp rioted after police detained a group of refugees after leaving the camp illegally," the directorate said.
"Twenty-two policemen were injured in the clashes. The rioters burned six tents and two caravans and tried to attack police stations."