One fatwa to rule over all.
For too long the American people have been silent and inattentive. Our government has become dictatorial in gradual steps and the executive branch is now attempting to usurp supreme and absolute authority.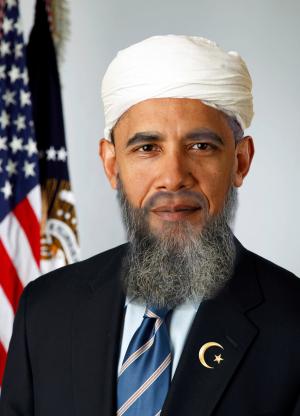 H/T: Marybeth Paytash via Hannelore Morton
Ayatollah of the United States
by LAWRENCE SELLIN, PHD 

In his 2014 State of the Union address Barack Obama threatened to use more executive orders if Congress and the American people fail to do what he wants.
Obama, America's first grand mufti of the Constitution, intends to govern by political fatwa.
Unlike a genuine Muslim fatwa, which must be based on theological evidence, Obama fatwas originate from personal whim or political expediency, but is, nevertheless, regarded as a religious ruling, which is now accepted without objection by all Democrats, submissive Republicans and the mainstream media.
The soon-to-be-codified "Obama Law," meant to replace an archaic Constitution of dead white men, will update statutes of secular law, including crime, politics, and economics, but will also regulate personal matters such as acceptable speech, suitable income, allowable beliefs, tolerable lifespan and even appropriate caloric intake.
Jonathan Turley, law professor George Washington University and a supporter of Obama's policies, was interviewed by Fox News anchor Megyn Kelly about the "dangerous" expansion of executive power in the United States.
Turley notes: "a president who is claiming the right to basically rewrite or ignore or negate federal laws… a cult of personality for people on the left… astonished by the degree of passivity in Congress, particularly by Democrats…We are turning a blind eye to a fundamental change in our system… a system in which a single individual is allowed to rewrite legislation or ignore legislation is a system that borders on authoritarianism…I think many people will come to loathe that they remained silent during this period."
Read more: Family Security Matters