Sweden is not a normal representational democracy.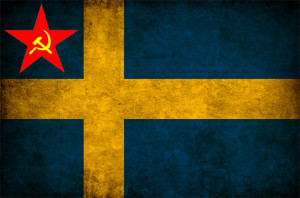 Swedish prosecutor takes a page from the Soviet manual
Dan Park. Photo: Roger Sahlström
Posted by: 
admin
 31 March, 2014
Even before he has been sentenced, Swedish street artist Dan Park has already been jailed for repeating an offense he may not have committed and the prosecutor wants him declared insane.
Whatever one may think of the Swedish street artist Dan Park, there is no denying that he has a gift for attracting publicity.
On March 19 he was accused of "denigration of 'folkgrupp'" ("folkgrupp" is the Swedish term for specially protected segments of the population, such as Muslims, Gypsies, homosexuals and women – but not the original Swedes nor men in general).
This is the second time Mr. Park has had to answer for denigration. Among his most recent crimes is to have displayed a sign with the text "Zigenarbrott är något gott" ("Gypsy crime is fine") and a picture of three African heads with a noose around their neck. The text reads: "Hang-on Afrofobians".
According to the prosecutor, this must be seen as clear encouragement to lynch blacks. Dan Park has a different explanation: It is a satirical presentation of reality, precisely because – contrary to claims that Sweden is full of "Afrophobes" – people of color are not persecuted in Sweden. There are no blacks hanging from the trees in Malmö. Nonetheless the spokesman for the Swedish Afroförbundet (The Association of Africans) claims that Africans are being grievously hounded. This is the hypocrisy Dan Park says he has tried to expose.
Exposure of hypocrisy was also the intention behind the text about Gypsy crime being fine. It is a fine thing for those on the politically correct left whose aim is to benefit by presenting gypsies as unjustly maligned and thus playing the victimization card.