Yet another conundrum for the intellectually vacant Left to crack.
The morons, of course they will allow it, they all ready allow for it in Detroit schools. For you see, you can't pray to a deity in school, (read = Christians, especially white ones, are bad) but you sure as hell can eat to one, as long as it's Allah of course.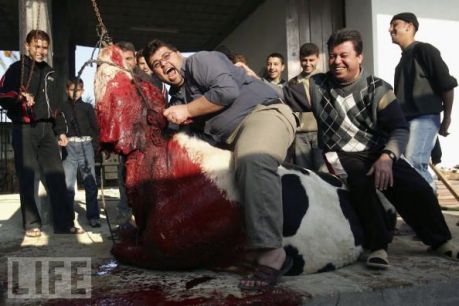 Muslims Want Halal Food in NYC Schools – Kosher Not Option
Without knowing the number of students who need halal food, or the costs or feasibility of providing it, the legislation simply instructs the Department of Education to provide it.
Published: March 27th, 2014
CAIR-NY at Muslim Day in Albany where they lobbied for a bill requiring large city school districts to provide halal food.
Photo Credit: Facebook
Proposed legislation was introduced into New York City Council to require that the city's public schools provide Islamic-compliant food – halal – as an option in the cafeterias. The New York chapter of the Council on American-Islamic Relations (CAIR) joined forces with council member Rafael L. Espinal, Jr. (Brooklyn) to support Resolution 54 at a press conference on the steps of New York City Hall on Wednesday, March 26.
Fourteen other city councilmembers co-sponsored Espinal's Resolution.
The Resolution goes into explicit detail about what Islamic-observant students are permitted to eat and what they must avoid eating, as well as stating who made those determinations. To wit:
Whereas, The practice of Islam is determined by the Islamic teachings as guided by the holy book Quran and the Hadith, and sayings of the Prophet Mohammad, which includes observing dietary laws; and Whereas, Islamic dietary laws delineate foods that are halal, meaning lawful or permitted, and those that are haram, meaning not permitted; and Whereas, Haram foods include pork and its by-products, meat and poultry not slaughtered according to the Islamic dietary law, alcohol and foods prepared with and containing alcohol, foods containing blood and blood by-products, and foods containing whey prepared with non-microbial enzyme, rennet, animal shortening, monoglycerides and diglycerides from an animal source, sodium stearoyl lactylate, and L-cysteine.
The proposed Resolution concedes that there is no accurate way to determine how many New York City schoolchildren are Muslim, and of those who are Muslim, how many observe strict halal guidelines. The best estimate they have is that approximately 12 percent of the school system's children are Muslim.
Undeterred by the lack of hard information, the legislators pointed to the Detroit public school system where 35 percent of the students are estimated to be Muslim. In Detroit, the school district began a halal pilot program in 2001 which has expanded to 35 schools in the district.
In addition to pointing to Detroit as a school district where such a program was implemented, the legislators turned to another argument to bolster their demands.
More here. H/T: Lisa Michelle