And the Swedish Left, they never expel anyone.
And you can rest assured, that the SRG news broadcaster meant this sotry as a smear of sorts against the SD party, when in fact it proves they're serious against nefarious types. The other parties, well, they have no problem with their members rubbing elbows with supporters of Islamic neo-nazis, none whatsoever.
Lefty Swedish ISM activists with Arab terrorists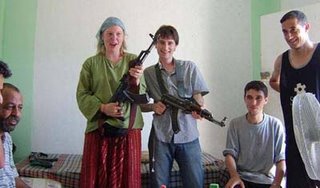 Swedish Mavi Marama participants who hung with the terrorist IHH.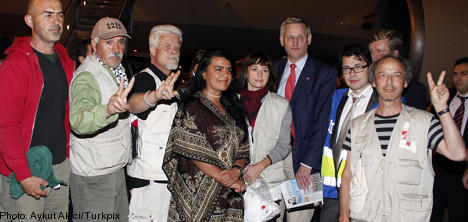 Expelled Sweden Democrats stand for Nazi party
Revulsion against nazism has brought tens of thousands onto the Swedish streets in recent months. Photo: Anna Bubenko/Sveriges Radio.
Four politicians thrown out of the far-right Sweden Democrat Party are now standing for election for a neo-Nazi party.
Since the Sweden Democrats announced a zero-tolerance policy against racism they have expelled 66 members. The party won 20 members in the Swedish parliament in the 2010 but is still seen as extremist by the other parliamentary parties.