Take the time to read through the interview, there are lots of interesting questions posed, and answered, that will help to further enlighten you on the dangers that the Islamic agenda poses for not only the US, but Western civilization as well.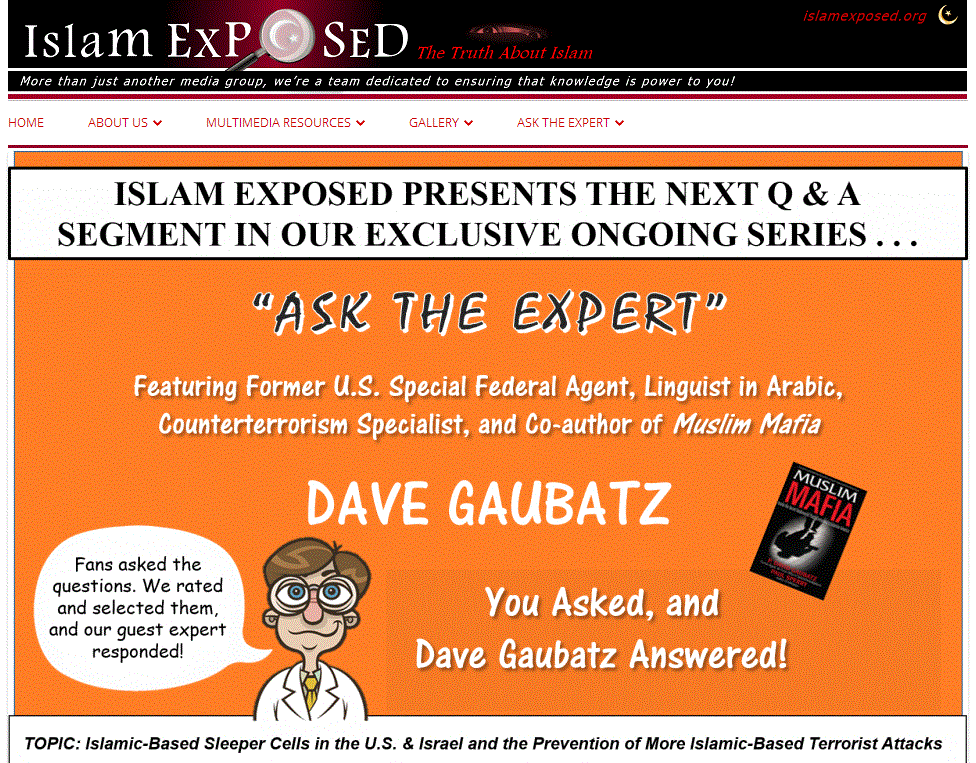 Presenting Islam Exposed's"Ask the Expert"
Q's & A's with Paul "Dave" Gaubatz and Fans
In a riveting Q & A segment of "Ask the Expert," Paul "Dave" Gaubatz, retired U.S. Federal Special Agent, counterterrorism specialist, and co-author of Muslim Mafia, addresses the topic, "Islamic-Based Terrorist Cells in the U.S. and Israel and the Prevention of More Islamic-Based Terrorist Attacks."
Are the concepts of multiculturalism and engagement in interfaith dialogue between Muslims, Israel, Jews, and the rest of the West productive, or are they a danger to us?

Are there active Islamic-based terrorist cells in the U.S.?

Were weapons of mass destruction identified in Iraq?

Is Islam really at war with the West? 
Our guest expert, Dave Gaubatz, confirms all four questions above, but these are just a few of the many asked by our fans of Islam Exposed and answered by him. Explore the answers and details to these questions and much, much more in this riveting Q & A segment of "Ask the Expert" with Dave Gaubatz and fans of Islam Exposed!
Lisa Michelle, Islam Exposed (IE) Moderator: We are privileged to welcome Dave Gaubatz as our guest for "Ask the Expert." Welcome and thank you for joining us. We now immediately segue into our question-and-answer segment with a few questions by us followed by fans.
The title of your book, Muslim Mafia, implies a parallel between Islamic operations and organized crime, particularly with groups such as the Mafia or "Mob." Would you elaborate on why you make such a comparison in your book and what that parallel is?
D. Gaubatz 
| | | |
| --- | --- | --- |
| | | The title Muslim Mafia was well-thought out by the publisher (WND) and myself. The undercover project upon which the book is based pertains to CAIR [Council of American-Islamic Relations] National in Washington, DC. It is well known and documented. They are a Muslim Brotherhood front. CAIR is a well-organized and financed terrorist-supporting organization. Its primary objective is to raise funding for Islamic-based terrorist organizations such as Hamas, as well as for Al Qaeda. It is a business and is a criminal enterprise like the Italian mob. |