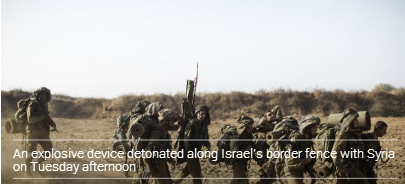 Three IDF soldiers hurt in blast on Israel-Syria border
Blast in area of Druze village of Majdal Shams on Golan Heights; initial investigation shows bomb detonated near IDF patrol.
Yoav Zitun Published: 03.18.14, 15:05 / Israel News
An explosive device detonated along Israel's border fence with Syria on Tuesday afternoon, the IDF said, in the area south of the Druze village of Majdal Shams. Three IDF soldiers were wounded in the blast, one lightly and two moderately.
The IDF has reportedly responded with artillery fire into Syrian-controlled territory. According to the military, it fired Tamuz missiles in Syria and direct hits were confirmed.
An initial military investigation showed that a bomb had detonated near an IDF patrol jeep traveling along the border. Last Friday an improvised explosive device was detonated in the same area, targeting an IDF force near the border with Lebanon as it was patrolling in the Shebaa Farms area.
The patrol, which included several reconnaissance vehicles, was hit by the IED, but no casualties were reported.