Oh, it's because the state loves us so.
The Finnish state is the only franchise that can sell hard liqueur, but they also sell beer and cider, and since people are avoiding purchasing the latter from the state run monopoly, Alko, the new "health chief", Juhani Eskola, wants to put the crimp on the private sector. Hey, here's an idea, dismantle ALKO, divvy up the proceeds to the people in the form of tax refunds, and get out of the business entirely.
NOTE: They use people like this (pictured below) as reason enough to punish the rest of society, and interestingly enough, the masterminds never succeed in ending alcoholism.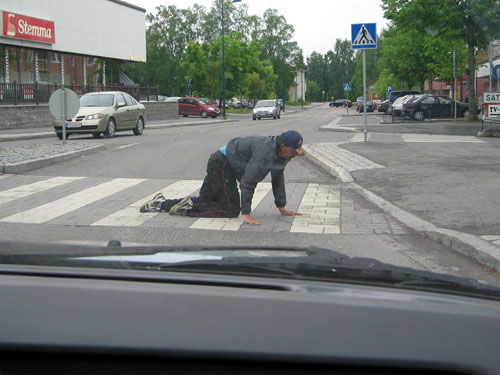 New health chief backs calls for tighter alcohol laws
As the Health Ministry draws up new laws on the sale of alcohol, the new head of Finland's National Institute for Health and Welfare (THL) says he supports further restrictions on the sale of beer and cider.
The new director of Finland's National Institute for Health and Welfare, Juhani Eskola, has said he supports re-opening the debate on sales restrictions for alcoholic drinks from shops, kiosks and service stations.
"There is no easy way to limit alcohol use that will win the support of everyone," Eskola said in an Yle interview on Saturday. "This proposal would be one possible way of making a small yet notable difference to alcohol consumption."
Eskola cited statistics which claim sales of beer and cider have increased in recent years from corner shops and service stations, but not from Alko stores or restaurants. "That means intervening in this area has the potential to affect overall consumption levels," Eskola said.
Speaking on Yle 1's breakfast show Aamu-TV, Eskola said that alcohol consumption in Finland needs to be cut in order to reduce the detrimental knock-on effects. Eskola claimed that adverse effects are directly proportional to levels of alcohol use.