The morons.
This is how a great society twists itself on a blade and commits suicide. Remember folks, Islam is a public square ideology/ belief system, and has been throughout its entire existence, playing with it will only get you burnt.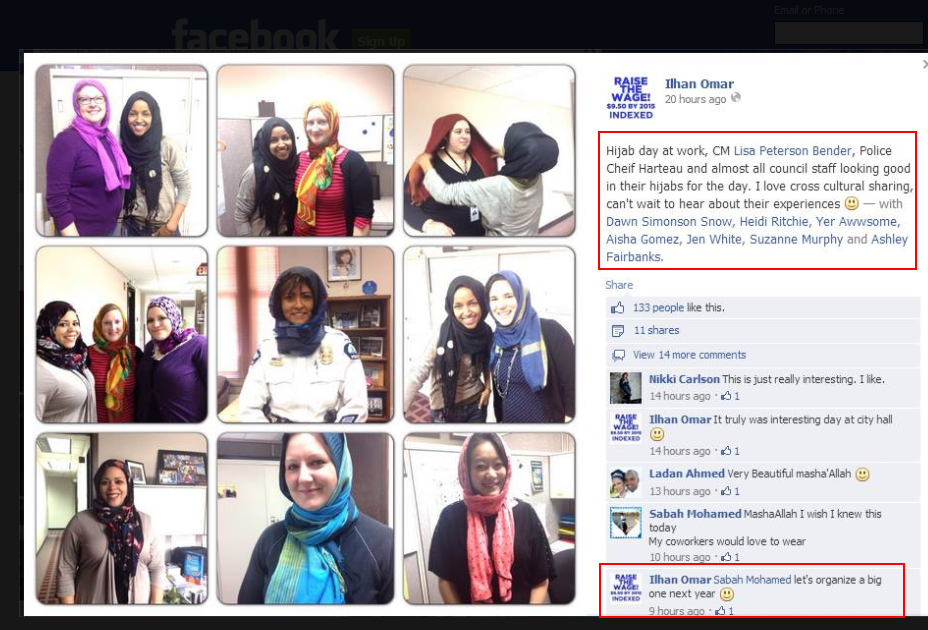 MINNEAPOLIS CITY HALL CELEBRATES 'HIJAB DAY'
by WARNER TODD HUSTON 13 Mar 2014
Muslim employees at Minneapolis City Hall recently declared "Hijab Day" in the workplace and convinced non-Muslim co-workers to don the Muslim head covering, including the city's police chief, Janeé Harteau, who is well known as a homosexual.
Female Muslim employees at the government building declared February 28 to be "Hijab Day" then systematically convinced nearly every female employee at work to don the traditional headwear to pose for pictures which were later posted to Facebook.
Facebook user Ilhan Omar, a staffer for Minneapolis Council Member Andrew Johnson and self-proclaimed Somali activist, was thrilled to have "Hijab Day" claiming that she "loves cross cultural sharing."
Omar was in the news recently for another incident in Minneapolis. She was involved in a brawl that ended a local Democrat meeting (the DFL Party) in Cedar-Riverside. In February a group of Muslims began a fight that abruptly canceled the meeting and left several injured.