UPDATE: IDF Blog: In Response to Massive Rocket Attack, IDF Targets Terror Infrastructure in Gaza
In response to the massive rocket attack that hit Israel earlier this evening, IAF targeted 29 terror sites in the Gaza Strip. Direct hits were confirmed.
In today's attack 41 rockets struck in Israel, 5 hit populated areas and 3 were intercepted by the iron dome defense system. This is the most substantial rocket attack from the Gaza Strip since Operation Pillar of Defense in November 2012.

Since the start of 2014, Gaza terrorists have fired more than 80 rockets at Israel.

Lieutenant Colonel Peter Lerner, IDF Spokesman: "This retaliation was precise and prompt. We targeted the infrastructure that serves the terrorists while they train, plan and implement their hideous attacks. They will not be permitted to conspire in the safety of their terrorist temples".

Palestinian Islamic Jihad is behind the rocket attack. However, Hamas is responsible for all attacks emanating from the Gaza Strip. The IDF will do everything in its power to fight Gaza terrorism and protect the people of Israel.

Oh, and remember, Hamas had deployed personnel at the border with Israel to prevent rocket attacks, I guess the hudna is off.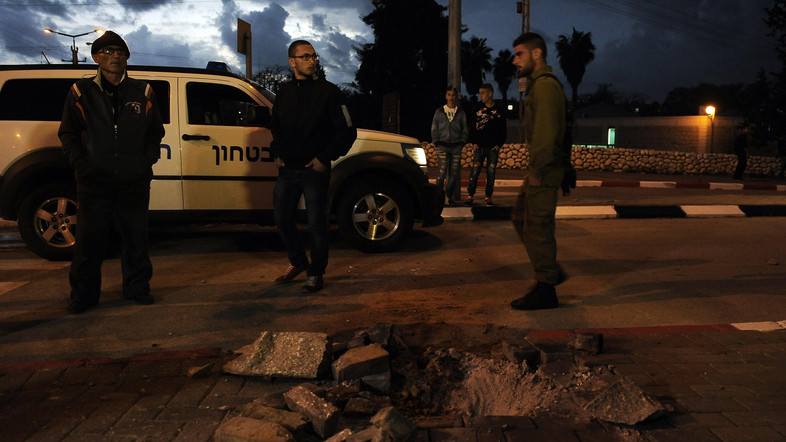 Barrage of at least 30 rockets fired from Gaza into southern Israel
LAST UPDATED: 03/12/2014 20:38
Islamic Jihad takes responsibly for attack; no injuries reported; Iron Dome intercepts 3 rockets; Israeli tanks shell 2 terror infrastructure targets in response.
Israeli communities near southern and northern Gaza have come under heavy rocket attack on Wednesday evening. The IDF said at least 30 rockets had been fired in the largest attack since 2012's Operation Pillar of Defense.
The IDF said eight rockets hit urban, civilian areas. One rocket landed in Sderot, according to police spokesperson Micky Rosenfeld, although there were no immediate reports of casualties.
Israeli media reported that up to 55 rockets had been fired into Israel in the deluge of projectiles.
The Islamic Jihad claimed responsibility for Wednesday's attack, saying that over 90 rockets had been fired toward Israel, a spokesman for Al-Quds told Palestinian news agency Ma'an.
"You haven't yet seen the extent of our capabilities," added the spokesman, who further threatened to fire extended range missiles.
Southern residents have reported several rocket alerts going off consecutively.
The Iron Dome rocket defense system shot down three of the rockets, according to the IDF Spokesperson's Office.