Faux journalism: Der Spiegel/Smeagol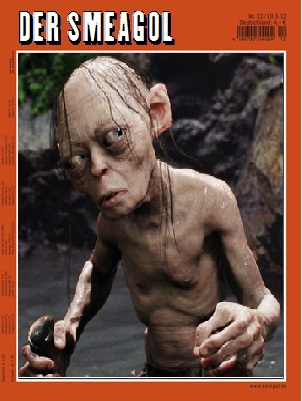 A highly simplistic hit piece that doesn't counter any of the facts provided by the groups and individuals mentioned, tells you all you need to know about the person writing the article and the editor who approved it.
They (Der Spiegel/Smeagol) are the ones engaged in fear mongering and smear tactics, not the patriots who spell out on a daily basis exactly what they themselves stand for, liberal, pluralistic democratic society with respect for free speech, individual rights and one rule of law for all.
The fear mongering Der Smeagol:
Right-Wing Extremism: Germany's New Islamophobia Boom
By SPIEGEL Staff
Across Germany, right-wing organizations are using anti-Islam rhetoric to further their ideas — and finding a receptive audience. Now legal experts are debating whether it's time for a new kind of hate-crime legislation.
For vomit inducing bile, click here. H/T: PI
Once again, Ezra Levant on freedom of speech and hate speech laws.