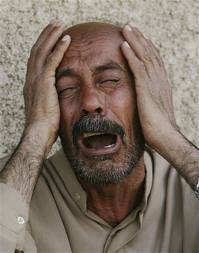 Scenes of Death in South Sudan: 'No Humanity Here'
MALAKAL, South Sudan February 27, 2014 (AP)
House after house has been burned to the ground. Hospital patients have been shot by armed rebels while lying in their beds. Dozens of corpses litter the streets.
"This is about revenge now. There is no humanity here," said Col. Jan Hoff, an officer in Norway's army who has served in Afghanistan, Iraq and Syria.
South Sudan, he said, is the worst he's seen.
"It's absolutely horrific," Hoff said this week as he led a heavily armed U.N. convoy through the streets of Malakal, the capital of oil-producing Upper Nile state. "This is tribe against tribe. In Syria it was foreign fighters against the government. Here I don't think it's about the government."
A corpse nearby is already a skeleton wrapped in a soldier's uniform. Hoff said he counted 30 bodies on a recent day. A colleague had counted 70. The dead include both civilians and soldiers.
Human Rights Watch said Thursday that both government and rebel forces are responsible for serious abuses that may amount to war crimes for atrocities committed in Malakal and Bentiu, another capital of an oil-producing state, despite a cease-fire signed in January. Reprisal killings, based on ethnicity, are common place.
Baghdad motorbike blast, other attacks kill 52 in Iraq
BY KAREEM RAHEEM
BAGHDAD Thu Feb 27, 2014 4:14pm EST
(Reuters) – At least 52 people were killed Wednesday as a motorcycle rigged with explosives detonated in Baghdad's Sadr City and militants targeted mostly Shi'ite neighborhoods around the country.
The motorcycle was parked in a second-hand bike market in the Shi'ite Muslim neighborhood that was filled with people, mostly young men, when it exploded late Thursday afternoon, killing 31 and wounding 51 others, Iraqi medical and police sources said.
Blood covered the ground, storefront windows were shattered and shoes and motorcycle parts were strewn around the market, according to a Reuters correspondent at the scene. Dozens of people were screaming for information about their relatives.
A wounded man, who identified himself as Ahmed, rested in a nearby hospital. "I was about to leave the market when a huge explosion happened," Ahmed said. "I was hit in my face and my hands and when I got up, everyone was screaming and running towards me away from the blast."
Syrian forces 'kill many rebels' in Eastern Ghouta
The Nusra Front is an al-Qaeda-linked group that has joined rebels in the armed revolt against President Assad
Syrian government forces have ambushed and killed a large number of Islamist rebel fighters in the eastern outskirts of the capital Damascus, reports say.
Syrian state media say 175 died.
The UK-based Syrian Observatory for Human Rights says it has received reports that about 70 died in the fighting in the Eastern Ghouta region.
The Observatory, which is close to the rebels, also said about 3,300 people had been killed in fighting between rebel factions so far this year.
"Some 3,300 people have been killed ever since the start of fighting on January 3 between the Islamic State of Iraq and the Levant on one side, and Islamist and other groups on the other," it said. The deaths came in "car and (other) bomb attacks, suicide blasts and fighting", it added.