And we all know that the Middle East doesn't lack of angry men.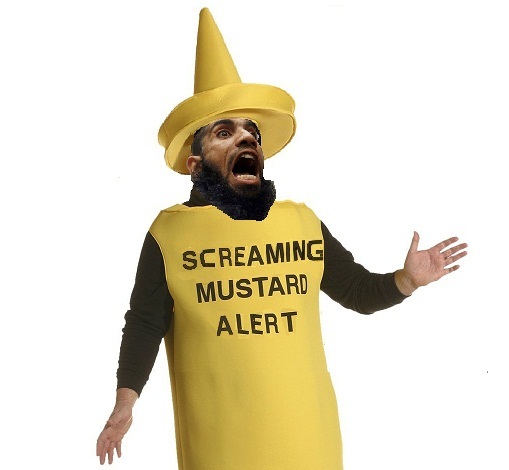 Angry funeral held for man rumored to have sung anti-Shiite song as Syrian war inflames Beirut
Members of the Lebanese Sunni society, called the "Islamic Group," shout slogans as they carry the coffin of Marwan Dimashkieh who was found shot dead on a northern highway on Tuesday after rumors swirled that he was behind a song insulting Hezbollah, during his funeral procession, in Beirut, Lebanon, Wednesday, Feb. 26, 2014. Hundreds of grim mourners gathered in a Beirut cemetery to bury a Sunni Lebanese man rumored to have been the voice of a popular song against rival Shiite group Hezbollah. The tense scenes the Martyrs Cemetery on Wednesday were the latest manifestation of the war in neighboring Syria that is badly inflaming sectarian tensions in Lebanon, even creating harsh musical rivalries. (AP Photo/Hussein Malla) (THE ASSOCIATED PRESS)
BEIRUT –  Angry mourners gathered in Beirut to bury a Sunni man, rumored to be the singer of a tune urging violent death upon Shiites, in the latest manifestation of how the war in neighboring Syria has inflamed hatreds in Lebanon that now extend even to music.
Hundreds of Sunni men from across Lebanon flocked to Wednesday's funeral after word spread that the dead man, car mechanic Marwan Dimashkiyeh, was the singer of "Dig Your Grave in Yabroud" — a virulently anti-Hezbollah song.
The funeral-turned-protest reflected rising tensions between Lebanese Shiites and Sunnis as they wage war in Syria on opposing sides.
The song refers to a battle launched in February by Syrian President Bashar Assad and his Lebanese allies from the Shiite Hezbollah group to dislodge rebels from Yabroud, a town along the Lebanese border. The town serves as part of a rebel supply line reaching sympathetic Sunni towns in Lebanon.
"Yabroud is on fire," said Mohammed Estateyeh, a Sunni activist who attended the funeral. The song "reflects how deeply people are suppressed, angry."
More here. H/T: Fjordman