The name says it all, in Finnish, Kamala simply means.. awful. 
Look at the cognitive dissonance of the woman, as a convert to Islam, she dons the political head gear, but then draws a young adult female character who's supposed to be a Muslim, who doesn't wear a hijab, but wears a short mini-skirt. She would definitely need to have super powers to defend herself from many of her male co-religionists who would either try to rape her or stone her for "immoderate behavior" as well as for not walking around with a male relative as a guardian.
NOTE: G.Willow Wilson is trying to pull a fast one on her readers, for she knows all too well that the overwhelming majority of Muslim women in the world today, do not dress in that fashion, neither does she herself. Actually, the headline should read:
Superhero product of conflicted dawa artist.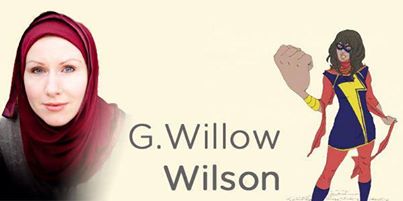 Superhero battles stereotypes
The new Ms. Marvel superhero is a teenage Muslim who grew up in Jersey City, in the US. The comic's creator, G. Willow Wilson, a convert to Islam, hopes her character, Kamala Khan, will flip stereotypes on their head.
US publisher Marvel Comics issued the first "Ms. Marvel," featuring 16-year-old Kamala Khan, this month. The character is said to have grown up in Jersey City and is a Muslim with a Pakistani-American background. She is the fourth incarnation of the Ms. Marvel superhero and is said to have been inspired by the first character in the series, Carol Danvers.
Danvers made her first appeared in a "Captain Marvel" comic in 1969 and became the subject of her own comic books series in 1977.
Kamala Khan is the first Marvel superhero who is Muslim. The comic comes less than a year after"Burka Avenger" an animated TV series, featuring a burka-clad Muslim superhero named Jiya, was launched in Pakistan.
More here. H/T: Fjordman