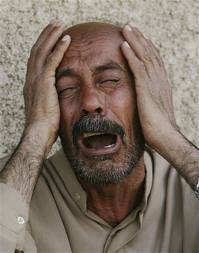 Nearly 30 Die as Kurds Take a Syrian Town
BEIRUT, Lebanon — A Kurdish group captured a town in Syria from Islamists fighting in Syria's civil war on Saturday in a battle that killed 28 fighters, most of them Islamists, a monitoring group reported.
If the Kurds can hold on to the town, Tell Brak, on a highway between the cities of Hasaka and Qamishli, it will be a significant advance in their quest for wider control in the northeast.
Islamist activists said online that fighting was still going on, but the Britain-based opposition monitoring group, the Syrian Observatory for Human Rights, said Kurdish groups known as People's Protection Units had taken the town.
Syrian Kurds have expanded their sway in the northeast, where they are setting up their own administration, since the revolt against President Bashar al-Assad began three years ago.
Syrian wounded flee to hospitals in Israel: Derek Stoffel
When Yousef was knocked down by what he describes as a powerful explosion in the small Syrian town he calls home, the injury was bad. His back was torn open, he was bleeding.
But three years of brutal civil war meant Yousef's options for medical treatment were dire, at best. There were no doctors or nurses in the village to help. He couldn't be taken to a hospital in a larger centre, because he's on the wrong side of the conflict.
So, members of the Free Syrian Army got in touch with the enemy. Not Syrian forces, the other enemy: Israel.
They arranged his transfer over the long-contested border in the Golan Heights, and Yousef was brought to the Ziv Hospital in the northern Israeli community of Safad. (Every Syrian patient I spoke to at the hospital requested the use of their first names only, out of fear of attack upon their return to Syria.)
​Yousef arrived in Israel suffering not only from severe injuries to his back, but also a life-threatening stomach infection contracted while he was offered stabilizing medical treatment in Syria. His condition was grave.
But more than two weeks later, his prognosis has improved.
Egypt's Morsi urges 'revolution' as officer killed
An image grab taken from Egyptian state television shows Mohamed Morsi in the accused cage in a makeshift courtroom inside a police academy on the outskirts of Cairo on January 28, 2014. Photo: AFP Cairo, Egypt: Â  Egypt's deposed president Mohamed Morsi Saturday urged supporters from a courtroom dock to press their "revolution", as a protest movement demanding his reinstatement shrinks in the face of a crackdown.
The defiant call came during Morsi's trial on charges related to jailbreaks and attacks on police, as a separate court acquitted six police officers of killing protesters during the 2011 uprising against his predecessor Hosni Mubarak.
Meanwhile, gunmen killed a senior national security officer who was involved in drafting a report against leaders of Morsi's Muslim Brotherhood.
The Brotherhood still stages diminishing weekly protests despite the fierce crackdown that has killed more than 1,400 people since the military overthrew Morsi in July, after just one year in office.
Officials: Pakistan Helicopters Kill 9 Militants
PESHAWAR, Pakistan February 22, 2014 (AP)
By RIAZ KHAN Associated Press
Pakistani helicopter gunships targeted a militant training facility in the country's northwest on Saturday, killing nine insurgents in the latest violence to disrupt troubled peace negotiations, according to police and security officials.
The strikes came as a spokesman for the Pakistani Taliban rejected a government demand that the militant movement halt attacks, saying the government should be first announce a cease-fire.
Underscoring the militants' refusal to stop attacks, a roadside bomb hit a vehicle carrying a pro-government elder in the northwestern town of Buner, killing him and two of his guards, police official Javed Khan said.
The military launched Saturday morning's strikes after confirming reports about the presence of militants at a compound in the village of Thal in the Hangu district of Khyber Pakhtunkhwa province, two security officials and a local police officer said. They said the identity of the slain men was not immediately known and agents were trying to get details.
Afghan Taliban kill 19 soldiers, suspend prisoner swap attempt
BY MOHAMMED ANWAR
ASADABAD, Afghanistan Sun Feb 23, 2014 3:56am EST
(Reuters) – The Afghan Taliban killed 19 soldiers in an assault on Sunday in a remote mountainous region, the Afghan government said, and six soldiers were missing after the militants' most deadly assault on the security forces in months.
Also on Sunday, in a possible blow to U.S. efforts to foster peace talks to end the long Afghan conflict, a Taliban spokesman said the group had suspended its efforts to arrange a possible exchange of Taliban and U.S. prisoners due to the "complexity" of the situation in Afghanistan.
It was not immediately clear whether the attack in the eastern province of Kunar was related to the suspension of talks on a prisoner swap.
In response to the killings in Kunar, a mountainous region bordering Pakistan that has long been a stronghold of Taliban, al Qaeda, and other militants, President Hamid Karzai put off a trip to Sri Lanka.
"The Afghan president is saddened by this tragic incident, and therefore he postponed today's official trip to Sri Lanka," Karzai's office said in a statement.