By the bucket full.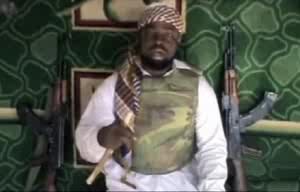 We enjoy shedding blood – Boko Haram threatens IBB, Buhari, Atiku in new video
Leader of the Jama'atu Ahlus Sunnati Lidda'awati Wal Jihad, otherwise known as Boko Haram, Abubakar Shekau, has vowed to launch more attacks on Nigeria and Nigerians.
Kingpin of the dreaded sect in a new video made available to newsmen, has threatened to target Nigeria's refineries and top northern leaders such as IBB, Buhari, Atiku and others.
This is coming barely 73 hours after its members wasted several lives in renewed attacks in Adamawa and Borno States.
He said the state of emergency currently imposed on Adamawa, Borno and Yobe State would not prevent them from carrying out their attacks.
Shekau called on his members in other states, particularly Kano, to attack civilians and government institutions.
The full text of his 28-minute video, delivered in Hausa, reads thus;
"My brethren…you should hold on to your weapons and continue fighting. Let them understand that our work is not confined to Yobe, Borno and Adamawa (states). Make them understand that we are not restricted by emergency rule. They should understand we are under the canopy of Allah.
"This is the beginning. Yes, this is the beginning.
"We Jama'atu Ahlissunnah Lidda'awati Wal Jihad are fighting Christians wherever we meet them and those who believe in democracy, those who pursue Western education wherever we meet them. By Allah, we will kill whoever practices Democracy.
"And you the infidels of Rivers state, Niger (Delta), the town of Jonathan, Shekau is talking to you (sounds of gunshots). Shekau is talking to you, that small boy that has become the nightmare of infidels is talking to you.
More here. H/T Alexis Worlock  Via Jihad Watch