Al Shabaab militants attack Somalia's presidential palace
Text by FRANCE 24 
Latest update : 2014-02-21
Militants have launched an assault on the presidential palace in the Somali capital Mogadishu, police and witnesses said Friday, in an attack claimed by the al Qaeda-linked group al Shabaab.
A loud explosion, believed to be caused by a car bomb, was heard coming from the palace in the centre of Mogadishu early Friday afternoon followed by the sound of prolonged heavy bursts of gunfire, witnesses said.
"There is a large attack on the presidential palace. Initial reports are that a suicide car bomber hit the gate and exploded, then men with guns followed," police officer Mohamed Ali told AFP.
Ahmed Moalim Adan, a security official near the scene of the attack said security forces were exchanging fire with the attackers.
"We have no details of the casualties but of course there are casualties," he added.
Witness Hussein Isa said the attackers were fighting inside the presidential compound.
"A suicide bomber rammed a car full of explosives into the perimeter wall of the presidential palace and another one with heavily armed men penetrated the area where the first one hit. There is heavy exchange of gunfire continuing inside the building but we cannot tell what is happening," he said.
President unharmed
Egypt says senior militants among 10 killed in Sinai helicopter raids
Helicopter gunships attack targets linked to Ansar Beit al-Maqdis militants in Sinai peninsula, say security officials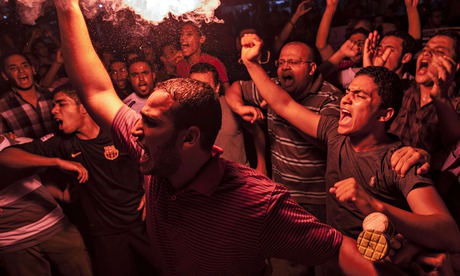 Egypt's Sinai has seen increased incidents of violence since the overthrow of president Mohamed Morsi. Photograph: Mahmoud Khaled/AFP/Getty Images
Egyptian security officials say army helicopter gunships have fired rockets into several houses where militants were thought to have gathered in the northern Sinai peninsula, killing at least 10 people.
They said the Wednesday night raids targeted a large house in the town of Sheikh Zuwayed and several others in nearby villages.
Officials claimed the dead included senior members of the al-Qaida-inspired Ansar Beit al-Maqdis, or Champions of Jerusalem.
The group claimed responsibility for the bombing of an Egyptian tourist bus carrying 31 South Korean tourists and their guide near the border with Israel in Sinai on Monday. Four people were killed in the blast and another 13 injured.
The group has claimed a role in attacks across Egypt in recent months that have killed dozens of people, mostly police and military.
Libya's Meftah Daouadi killed in Tunisia plane crash
Footage of the aftermath of the plane crash
A former Islamist fighter who joined Libya's government was among 11 people killed when a Libyan military plane crashed in Tunisia, officials say.
Meftah Daouadi was being taken to Tunisia for unspecified medical treatment, Libya's government said.
He was part of the 2011 uprising against Muammar Gaddafi before working at the Ministry of Martyrs, which looks after the families of former fighters.
The Antonov plane is said to have suffered engine failure.
It came down in a field near Grombalia, about 40km (25 miles) south of the capital, Tunis.
As well as Mr Daouadi, three doctors, six crew and another patient died, a Tunisian rescue worker said.
"The whole plane was completely burnt out. The emergency services went to the crash site and recovered the charred bodies," said emergency services spokesman Mongi El Kadhi.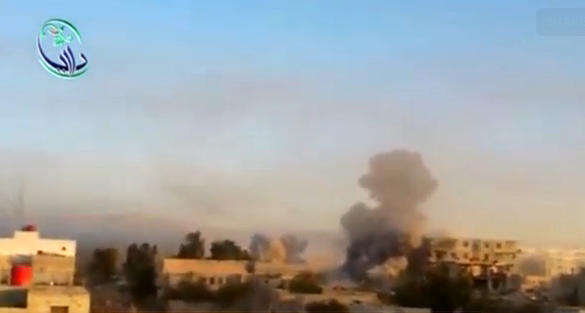 Hundreds killed in Syria airstrike campaign
Government continues much-criticised barrel bomb campaign as it steps up attacks against rebel-held areas.
Syrian activists say hundreds of people have been killed in airstrikes targeting rebel-held areas over the past few days.
The Syrian government forces continues to use barrel bombs – explosives packed inside drums and thrown from helicopters – which have been condemned as indiscriminate weapons.
The government has also deployed more troops to recapture the strategic Qalamoun area.
Al Jazeera's Hashem Ahelbarra reports.
Dozens killed as mortars hit town in Iraq
At least 22 people die when three mortar rounds strike crowded market in flashpoint area.
More here.
A mortar attack has struck a busy area in a mainly Shia town south of Iraq's capital, killing at least 22 people and wounding more than 50, authorities said.
The five mortar rounds slammed into a busy market, a residential building and a parking lot around 7pm local time as people returned home from work and shopped in the town of Mussayab, police and hospital officials said.
Police said it appeared the rounds came from the nearby Sunni-dominated town of Jurf al-Sakr, though it wasn't immediately clear who fired them.
The officials gave the casualty toll and details of the incident on condition of anonymity because they were not authorised to release information to journalists.
Three militants killed in Afghanistan attack
Three militants have been killed in Afghanistan after a suicide attack and gun battle with police, officials say.
One of the men detonated explosives inside a van as he drove up to local government offices in Sarobi, 50km (30 miles) east of the capital, Kabul.
Two men then opened fire before they were killed by police during the gunfight that followed.
The incident comes as Afghanistan is preparing to hold presidential elections on 5 April.
Police officials were quoted in reports as saying that one policeman was killed and two others were wounded during the attack.