Bulgaria has been in the news lately, Andy Bostom reminds us that he was on top of the situation long before the news broke, providing the historical context to traditional Bulgarian animosity towards Islamic hegemony. Thanks pal, you're the greatest.
H/T: Andy Bostom
Contemporary Jihadism and Remembrance of Bulgaria's Islamic Past—Lessons from Bistra Tsvetkova
October 12th, 2010 by Andrew Bostom |
829 visitors have read this article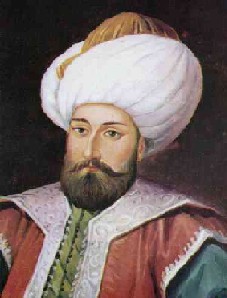 Murad I (d. 1389), Ottoman conqueror of Sofia in 1385 A.D.
The first of two recent reports by the invaluable Ned May at Gates of Viennahighlights the resurgent jihadism in the former Ottoman Muslim colony of Bulgaria. Given the predictably self-loathing reaction of Bulgaria's prototypical Leftist media, it is well past overdue for such uninformed ignorami to understand what the yoke of the Sharia inflicted upon their noble ancestors, invoking Santayana, ad nauseum…
Bistra Tsvetkova [Cvetkova] (1926-1982) was a Bulgarian-born scholar who studied in Sofia, Cairo, and Paris, before obtaining her PhD from Leningrad University in 1972. Her doctoral thesis analyzed the Ottoman conquest of the Balkans during the early fifteenth century. Dr. Tesvetkova became a member of the Bulgarian Academy of Sciences in 1952, and a professor at Sofia University, and concurrently, director of the Commission on Ottoman-Turkish source materials, in 1972. The Universite de Strasbourg conferred upon her an honorary degree in 1981. Tsvetkova's major work, Les Institutions Ottomanes en Europe was published in 1978. Not long after a horrific traffic accident, during which her husband was instantly killed, and she was seriously injured, Dr. Tsvetkova committed suicide, August 16, 1982.
Here are the conclusions from her Russian essay, which translates, "Religious and ethnic discrimination in Bulgaria during the period of Turkish rule,":
The Ottoman feudal aristocracy purposely encouraged the religious fanaticism of the Muslims, and the hatred of the Muslims towards the non-Muslim reaya [raya; "dhimmis"]. By these means the ruling class intended to distract the Turkish peasantry from the ever-increasing social antagonism within the state, and to prevent them from recognizing their true class enemies and originators of their oppression and exploitation.
More here at Andy Bostom's blog.