Especially with Obama handicapping US efforts.
The US should never have planted boot on the ground in extended operations, just the use of drones in targeting high value terrorists, along with the occasional "fly-in-and-snatch" operations which bag selected jihadis for interrogation. "Nation building" in tribal Islamo-backwaters was doomed from the very beginning.
NOTE: Soon you'll hear of Karzai of either living in exile, or hanging from his ankles.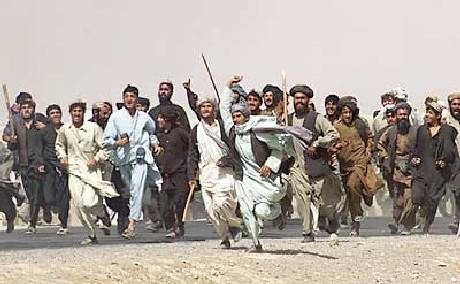 Twenty-five years after Soviet exit, Taliban says U.S. will meet same fate
KABUL (Reuters) – The Taliban called on Afghans to expel the United States from Afghanistan on Saturday just as they said Afghan mujahideen fighters had done to Soviet forces 25 years ago to the day.
In a statement issued on the 25th anniversary of the final Soviet withdrawal from Afghanistan, a national holiday for Afghans, the Taliban sought to connect the steady departure of U.S. and NATO troops ahead of a year-end deadline to the end of the decade-long Soviet occupation.
"Today America is facing the same fate as the former Soviets and trying to escape from our country," the Taliban said in a statement emailed to reporters by Qari Yousef Ahmadi, a spokesman for the group.
"The Islamic Emirate of Afghanistan is calling on its people to deal with today's invaders the same they did with the yesterday's invaders," he said, using the name the Taliban government used during its repressive 1996-2001 rule.