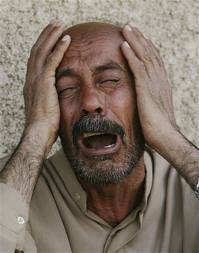 Nine killed in Pakistani train bomb
An explosion derails a passenger train in southern Pakistan, killing at least five passengers, including children. Deborah Lutterbeck reports.
A bomb derailed a train in southwest Pakistan on Sunday, killing nine people, police said.
Four of the dead were children and another 20 people were wounded by the blast in Kashmor district, which caused several train cars to run off the track, said police official Mohammad Azeem.
Kashmor is in Sindh province but adjoins insurgency-hit Baluchistan. No one has claimed responsibility, but suspicion likely to fall on ethnic Baluch separatists operating in resource-rich province.
Al-Qaida-linked militants also have a presence there.
One of the separatist groups last week blew up three gas pipelines, suspending supplies to millions of household for two days.
The group said it bombed the pipelines to avenge several Baluch whose bodies had been found in the Khuzdar district in the region.
Meanwhile, a roadside bomb killed a policeman guarding a polio vaccination drive team in the outskirts of northwestern city of Peshawar.
Egypt terror attack targets Christian pilgrims in Sinai
Bombing of bus threatens a return to campaign targeting foreign tourists at Red Sea resorts
People and security officials walk and look as smoke rises from a tourist bus in the Red Sea resort town of Taba in the south Sinai Photo: REUTERS
By Richard Spencer, Cairo
6:46PM GMT 16 Feb 2014
Four people including three believed to be South Korean Christian pilgrims were killed on Sunday by a bomb that tore through their bus near Egypt's border with Israel in the Sinai peninsula.
The bus was heading to the Taba border crossing after taking the pilgrims to visit St Catherine's Monastery, at the foot of Mount Sinai, when its front half was engulfed in an explosion.
The bombing, said by the authorities to be most likely the work of terrorist insurgents based in the Sinai, marked a dramatic shift in their current campaign against the Egyptian regime, which to date has targeted the military and police.
Tour companies including those that take thousands of British visitors to Egypt's Red Sea beaches every year will fear it heralds a return to previous bombing campaigns targeting them. In 2004, 31 people were killed when a bomb, one of three planted at the same time in the peninsula, exploded at the Taba Hilton Hotel less than a mile from the point of Sunday's attack.
Syria's death toll now exceeds 140,000: activist group
BEIRUT Sat Feb 15, 2014 8:43am EST
(Reuters) – More than 140,000 people, over 7,000 of them children, have been killed in Syria's uprising-turned-civil war, the Syrian Observatory for Human Rights said on Saturday.
The pro-opposition Observatory said the period since the "Geneva 2" peace talks for Syria began last month had been the bloodiest of the nearly three-year conflict.
The death toll is now at 140,041, according to the Observatory, which is based in Britain but has a network of activists across the country. Among the dead were 7,626 children and 5,064 women.
The revolt against President Bashar al-Assad began as peaceful street protests but transformed into an armed insurgency after a fierce security force crackdown. It has since descended into a civil war with sectarian dimensions.
Dozens Of Christians Killed In South Sudan, Sudan
Monday, February 17, 2014 (12:09 am)
By BosNewsLife Africa Service
Christians in South Sudan and neighboring Sudan suffer amid ongoing violence.
JUBA/KHARTOUM (BosNewsLife)– Christians in South Sudan and neighboring Sudan are mourning their dead, amid new revelations of massacres by Muslim fighters.
Among those who died are scores of female church workers who were killed last month while seeking refuge at a church in the central South Sudanese town of Bor, Christians said.
The women, several of whom were elderly, had reportedly fled rebel attacks to hide in the St. Andrew's Episcopal Church compound, when rebels descended on them, raping several of them before shooting them at close range.
Witnesses said several churches have been attacked and looted, and pastors harassed.
In Malakal, the St. Francis Catholic Church compound was reportedly attacked and looted in mid-January, and the priest robbed, while the local Anglican and Evangelical churches were also looted.
Syrian troops bombard town near Lebanon border
By BASSEM MROUE
Associated Press
Posted: Saturday, Feb. 15, 2014
Keystone, Salvatore Di Nolfi – AP Photo

Syrian chief negotiator Bashar Jaafari, Ambassador of the Permanent Representative Mission of Syria to the UN in New York, speaks to the media during a ns conference after the second round of negotiations between the Syrian government and the opposition at the European headquarters of the United Nations, in Geneva, Switzerland, Saturday , Feb. 15, 2014. U.N.-Arab League mediator Lakhdar Brahimi ended direct talks between the Syrian government and opposition Saturday without finding a way of breaking the impasse in peace talks. Saturday's talks, which lasted less than half an hour, left the future of the negotiating process in doubt.
BEIRUT Syrian troops pressed an offensive near Lebanon on Saturday, heavily bombarding a rebel-held town and forcing many residents to flee to safety across the border, activists said.
The violence came as an activist group said the death toll in the three-year Syrian conflict has reached 140,000. The Britain-based Syrian Observatory for Human Rights said the figure includes civilians, rebels, members of the military, pro-government militiamen and foreign fighters.
The group based its count on information from a network of informants on the ground.
The group said violence had escalated of late, with more than 3,400 people killed so far this month even as the government and opposition hold peace talks in Geneva. Since Jan. 22 when talks began, 5,792 people have been killed.
Taliban claim killing 23 FC soldiers in custody
-File Photo
Updated 2014-02-17 00:57:15
PESHAWAR: Taliban militants in Mohmand Agency on late Sunday night claimed to have killed 23 FC soldiers who were kidnapped in 2010 from Shongari checkpost in Mohmand Agency.
The Mohmand Agency Taliban chief Umar Khalid Khurrasani, in a letter issued on social media, claimed that they have killed the FC soldiers to avenge what he said was the custodial killing of Taliban fighters in various parts of Pakistan.
The letter, written in Urdu and attributed to Umar Khalid Khurrasani, says that the Taliban had warned against the killings of their activists.
Since the government has allegedly continued with the killings, the Taliban said in the letter that they have avenged the killing of their fighters by executing the 23 FC soldiers.
The claim of the Mohmand agency Taliban however could not be confirmed from any independent sources.
Iraq attacks kill 17, army fights to retake town from militants
TIKRIT, Iraq Sun Feb 16, 2014 9:30am EST
(Reuters) – At least 17 people were killed in attacks across Iraq on Sunday as troops fought to evict Islamist militants from the northern town of Sulaiman Pek, security sources and medics said.
Armored vehicles and special police forces with heavy machineguns arrived in Sulaiman Pek to reinforce troops battling there for several days backed by helicopters gunships.
"Clashes are continuing today in the town centre," the town's mayor, Talib Mohammed, told Reuters. "The situation is still unclear. We can't even look out of the window, as bullets and blasts are not stopping."
Militants raised the black flag of the Islamic State in Iraq and the Levant (ISIL) – a hardline Sunni group also fighting in neighboring Syria – over parts of Sulaiman Pek, 160 km (100 miles) north of Baghdad, on Thursday.
Ministry: Jihadists kill 4 in Tunisia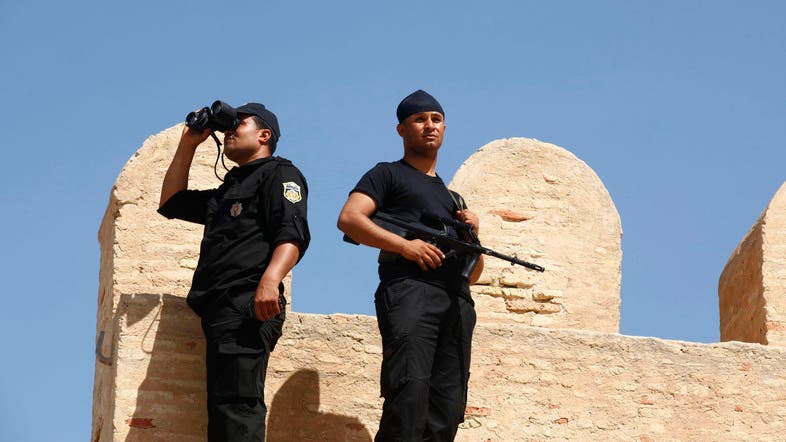 Police officers stand watch. Tunisia has been wracked by violence blamed on jihadist groups since the January 2011 revolution that ousted long-time dictator Zine El Abidine Ben Ali and ignited the Arab Spring. (File photo: Reuters)
AFP, Tunis
Sunday, 16 February 2014
Jihadists shot dead two people in a car at a roadblock near Roman ruins in Tunisia and two policemen who later sped to the scene, the interior ministry said Sunday.
The killings occurred on Saturday night in the Jendouba area of western Tunisia near Bulla Regia, the site of historic Roman ruins, it said in a statement.