Benefactor Sudhir Choudhrie who donated £500,000 to party is named as arms dealer on Indian police list of 'undesirables'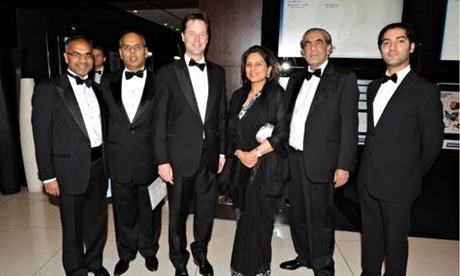 The revelation about Indian businessman Choudhrie (second right) comes as a growing network of links between his family and the Lib Dems emerged.
The Liberal Democrats were mired in a fresh donor row when it emerged that one of the party's biggest benefactors is an international arms dealer listed on the Indian fraud squad's blacklist of "undesirables".
Sudhir Choudhrie, who has donated more than £500,000 to the Lib Dems via his family company since 2010, was named by India's Central Bureau of Investigation as one of 23 "unscrupulous persons" in 2012, the Guardian can reveal.
However, the Lib Dems accepted donations from Choudhrie as recently as November 2013, when his C&C Alpha Group family company donated £30,000. His family and companies have donated more than £500,000 since 2010.
Choudhrie's activities were thrown into the spotlight this week when he and his son Bhanu were arrested and questioned for several hours by the Serious Fraud Office in connection with an investigation into allegations of multimillion pound bribery and corruption at Rolls-Royce, which supplies engines for military and civilian jets. Sudhir Choudhrie has always denied claims that he is an arms dealer.
The revelations about the Indian businessman come as a growing network of links between the Choudhrie family and the Lib Dems emerged.
• Nick Clegg and his wife Miriam hosted an event in 2011 for Choudhrie's charity, Path To Success, in Lancaster House, London, an official government residence.
• Justice minister Simon Hughes received a £60,000 donation in November 2013 after a request for the cash.
• Bhanu's wife, Simrin Choudhrie, says on her LinkedIn page that she worked as a campaign assistant in Hughes's office on his 2004 mayoral campaign and "later assisted Simon with the bid to host the Olympics in 2012".
• Danny Alexander, chief secretary to the Treasury, visited Choudhrie's home last year during an official government trip to India.
Lib Dem sources said the party had no knowledge that Choudhrie was on the CBI list of people "suspected to be resorting to corrupt or irregular practices in their dealings with official agencies".
More here.
Former Dutch Prime Minister Murdered
Photo: Menno Bausch / ANP
The body of former Deputy Prime Minister Els Borst has been found by neighbors in her home. She was murdered. Though the police remain silent about the damage done to her body, it has become known that her nose was no longer discernible due to the beatings and her knuckles were broken. A large number of detectives are investigating the murder.
BNFTN Via Telegraaf.nl