Clinton is a serial, drunk, liar and pervert, his wife a serial drunk, liar and an incompetent.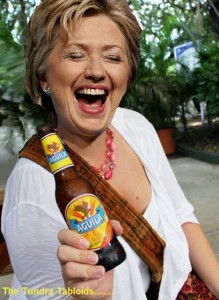 A match made in Leftist nirvana.
Rand Paul demands Dems return money raised by 'sexual predator' Bill Clinton
** FILE ** Former President Bill Clinton, left, is seen on March 9, 2004, in New York. Monica Lewinsky, is shown in an undated promotional photo provided by Fox. Sen. Rand Paul said Sunday, Jan. 26, 2014, on NBC's "Meet the Press" that Democrats should remember President Clinton's sexual affair with White House intern Monica Lewinsky before turning their criticism to Republicans' attitudes toward women. (AP Photo/Mary Altaffer/FOX, S.Jones, File)
Sen. Rand Paul, who has been in a bit of a tiff recently with the Clintons, says that any Democrat who has raised campaign money with former President Clinton should return the cash to protest his sexual behavior in the White House.
Speaking on C-Span's "Newsmakers" program, in an interview airing Sunday, Mr. Paul said Democrats are being hypocritical by criticizing Republicans as waging a war on women while at the same time embracing Mr. Clinton, who was impeached for lying about a sexual relationship with a White House intern.
"They can't have it both ways. And so I really think that anybody who wants to take money from Bill Clinton or have a fundraiser has a lot of explaining to do. In fact, I think they should give the money back," Mr. Paul, Kentucky Republican, said. "If they want to take position on women's rights, by all means do. But you can't do it and take it from a guy who was using his position of authority to take advantage of young women in the workplace."
Mr. Paul recently called Mr. Clinton a "sexual predator" for his relationship with White House intern Monica Lewinsky.
Read more: H/T: Drudge Report