It's like having the serial misogynist, rapist and womanizer, Bill Clinton, laud the Swedes for being champions of women's rights.
In this day and age, when looking at states and the people who run them in the various departments and offices, to view them, (like in George Orwell's book 1984) as the opposite of what they purport to be. Eric Holder, is the race baiting, terrorist defending clown currently running what many call the department of injustice. Anything he says, has to be viewed under the rubric of his subversion of the rule of law within the US to fit his political agenda, and that of his boss.
NOTE: So there he is in the Swedish la la land of societal self destruction and faux humanitarianism, puffing up the feathers of those seated before him. The fluffly and puffy Swedes simply gush with pride, vindication, they really are so just and righteous after all.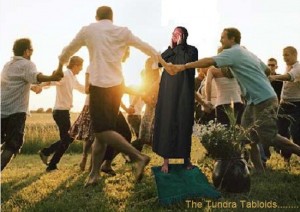 Holder hails Sweden as human rights 'champion'
US Attorney General Eric Holder. Photo: Bertil Enevåg Ericsson/TT
Published: 04 Feb 2014 18:31 GMT+01:00
US Attorney General Eric Holder praised Sweden as a "champion of human rights" in a speech at the Riksdag on Tuesday during the first-ever visit to Sweden by the United States' top legal official.
"I have repeatedly seen the significant, positive difference that Swedish engagement brings to the international stage," Holder told the gathered audience of politicians, dignitaries, and representatives from various human rights groups in Sweden.
Holder, the first African American Attorney General of the United States, went on to praise Sweden for passing the Discrimination Act of 2008 and for being a leader in recognizing same-sex marriages.
"By becoming the seventh nation in the world to extend the right to marry to gay and lesbian couples, you've stabilized families and expanded individual liberty," he said.
He went on to reference Sweden's tradition of being a "safe haven" for refugees dating back to the granting of asylum to Jewish migrants fleeing persecution during World War II.
"You've shown that, although it is seldom easy, it is both noble and, more importantly, right to fight the short term comfort of indifference; to welcome those who flee from persecution; and to shelter those who struggle to survive in the lands where they were born," he said.
The speech, billed as a talk about confronting contemporary civil rights challenges, comes as Holder faces questions back home and from leaders in Europe about the surveillance methods of the National Security Agency (NSA).