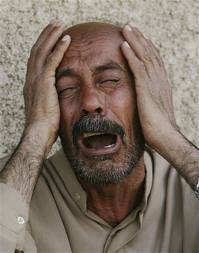 Four terrorists killed in northwest Pakistan
Last Updated: Saturday, February 01, 2014, 13:17
Peshawar: At least four terrorists were killed on Saturday in an encounter with the police during a search operation in northwest Pakistan's Khyber Pakhtunkhwa province. The incident occurred in Yar Hussain area of Swabi district bordering Punjab Province.
Police also claimed to have recovered weapons and explosives after the encounter. District Police Officer Sajjad Khan said that the police received information about the presence of terrorists in Yar Hussain area. Acting on tip-off, the police launched search operation in the area, he said
More than 1,000 killed in Iraq in January
AFP
Smoke rises from an Iraqi army vehicle following an attack by armed militants in the Anbar city of Fallujah, on January 26, 2014Smoke rises from an Iraqi army vehicle following an attack by armed militants in the Anbar city of Fallujah, on January 26, 2014
More than 1,000 people were killed in Iraq in January, official data showed on Friday, as security forces grapple with a surge in bloodshed and a standoff with militants.
A total of 1,013 people — 795 civilians, 122 soldiers and 96 policemen — died as a result of violence, according to data compiled by the ministries of health, interior and defence.
The figures also showed that 2,024 people were wounded: 1,633 civilians, 238 soldiers and 153 policemen. Security forces killed 189 militants and arrested 458 more.
January's overall death toll is the highest released by the ministries since April 2008, when 1,073 people were killed.
Nearly 1,900 killed in Syria since Geneva talks began
UN mediator says there has been no progress to speak of at negotiations, with each side blaming the other for impasse
Friday 31 January 2014 16.00 GMT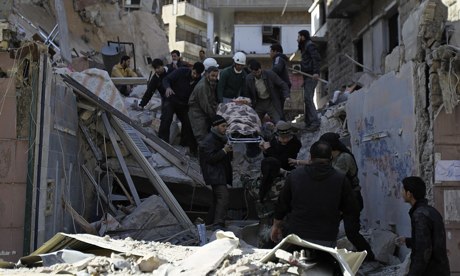 Rescuers carry a casualty on a stretcher in al-Ansari, Aleppo. Photograph: Ammar Abdullah/Reuters
Nearly 1,900 people have been killed in Syria since the Geneva talks between the government and the opposition began just over a week ago, it was reported on Friday, as the UN mediator admitted there had been "no progress to speak of" so far.
The casualty figures were published by the Syrian Observatory for Human Rights, a UK-based pro-opposition group. It said at least 498 of the dead were civilians, 850 were fighters from mainstream or extremist rebel groups and 515 were on the government side. An estimated 130,000 people have died since the conflict erupted nearly three years ago.
Sinai jihadi group emerges at forefront of Egypt violence
By Borzou Daragahi in Cairo
A once obscure jihadi group has emerged at the forefront of the violence now afflictingEgypt, alarming security experts with its prowess and ties to a notorious Syrian militant group, the Islamic State of Iraq and the Levant, or ISIS.
Ansar Beit al-Maqdis (ABM), or the Supporters of Jerusalem, is an al-Qaeda-linked organisation based in the mountainous deserts of the Sinai Peninsula. Over the past three years it has claimed responsibility for a string of Sinai oil pipeline bombings, rocket attacks on Suez Canal shipping and missile launches on nearby Israel.
16 Taliban Fighter Killed, 13 Others Wounded
Friday, 31 January 2014 17:59Last Updated on Friday, 31 January 2014 19:43Written by Saleha Soadat
In a gun battle with Afghan security forces in Helmand province on Thursday night, 16 Taliban fighters were killed and 13 others were wounded.
Toryalai Zeerak, the Marjah District Police Chief in Helmand, said the Taliban members were killed last night when they attempted to attack three Afghan security check posts.
An Afghan Local Police (ALP) officer also lost his life.
"16 Taliban members were killed and 13 others were wounded, and the ammunition of these Taliban fighters was seized by the Afghan security forces and only one local police officer was killed in the incident," Zeerak said
At least 75 killed in Yemen violence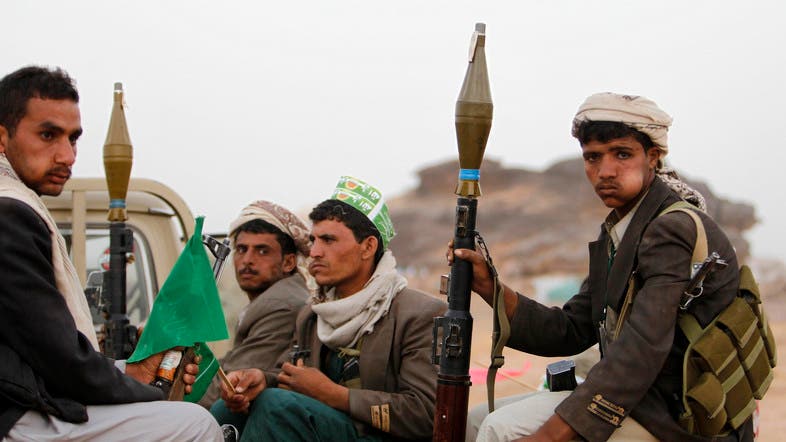 Armed followers of Yemen's Shi'ite Houthi group sit on a truck patrolling the vicinity of a ceremony attended by fellow Shi'ites in Dhahian of the northwestern Yemeni province of Saada Feb. 3, 2012. (Reuters)
Staff Writer, Al Arabiya News
Saturday, 1 February 2014
Fighting between Yemeni tribesmen and Houthi rebels killed at least 60 people in the north of the country on Friday, while at least 15 soldiers were killed by suspected al-Qaeda militants in the south, Al Arabiya News Channel reported.
Pro-government Hashid tribes battled the Houthi rebels north of the Yemeni capital in the Arhab region just 40 kilometers north of Sanaa, where tribesmen said they had recaptured several areas.
The rebels have been pushing out from their stronghold in the mountains of the far north to other areas nearer the capital, where most of the population follow the Zaidi branch of Shiite Islam, to lay a stake to their own autonomous unit in a promised federal Yemen, political sources say.
15 killed in South Sudan's Bor; govt blames rebels
February 1st, 2014 at 3:21 am
By Okech Francis
Anadolu Agency
At least 15 people were killed – including women and children – and hundreds of heads of cattle stolen in militant attacks on two villages near Bor, capital of South Sudan's Jonglei State, which the government was quick to blame on rebels.
"The areas are very far and there are no access routes, so we couldn't readily verify the attacks," Sudan People's Liberation Army spokesman Col. Philip Aguer told Anadolu Agency on Thursday.
Militants attacked the villages of Jelle and Abuodit in the early hours of Wednesday. They reportedly killed 15 people and looted hundreds of heads of cattle.
"Most of those killed were women, elderly persons and children," Aguer asserted.
The army spokesman was quick to point the finger at rebels loyal to Riek Machar, President Salva Kiir's sacked vice president.
"These are typical acts by the rebels," he said. "They are continuing to carry out attacks despite the ceasefire agreement."