Polite golf clap.
After + 130 million dead, you can safely assume that that is where they belong.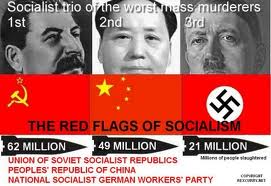 Montenegro church depicts Tito, Marx and Engels in hell
Tito, Marx and Engels are pictured in a sea of fire with diabolical beasts
A church in Montenegro has sparked controversy by displaying a fresco depicting Yugoslav communist leader Josip Broz Tito in the fires of hell with Karl Marx and Friedrich Engels.
The newly built Church of Resurrection in the capital Podgorica has already drawn criticism for its lavish design.
Critics now say the church should not be interfering in politics.
Works by philosophers Marx and Engels were required reading when Montenegro was part of communist Yugoslavia.
One church leader, named only as Dragan, told the Agence France-Presse news agency that Marx, Engels and Tito "personify communist evil in the Balkans" and the artist should be "allowed the freedom to see things as he wishes".
However, he added: "He cannot judge, in the name of the Church, who belongs in hell or heaven."
More here. H/T; Fjordman