This revolving door policy with Arab/Muslim terrorists is revolting.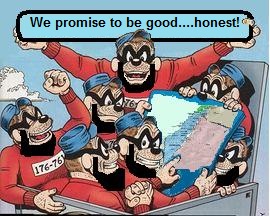 Murderer of Israeli Students Given Cash Prize, Employed, Promoted
Two Israeli college students were brutally murdered 30 years ago. Their murderer has been given his freedom, a huge cash prize, a job, a military promotion and an all-expenses-paid wedding. He has no regrets.
By: Lori Lowenthal Marcus
Published: January 30th, 2014
PA leader Mahmoud Abbas (center) holding hands in victory with Issa abd Rabbo (right of Abbas), murderer released from Israeli prison on Oct. 30, 2013 Photo Credit: Issam Rimawi/FLASH90
THE MURDERED
On October 22, 1984, two Hebrew University students went hiking. Revital Seri, 22, and her friend Ron Levi, 23, were hiking in a wadi near the Cremisan Monastery south of Jerusalem.
A 19 year old Palestinian Arab who had stolen a weapon from a soldier was waiting for Jews to kill. When he saw Revital and Ron, he tied up both of them, put bags over their heads, pronounced their "sentence," and shot them, killing each with one bullet to the head.
A monument was erected in 1988 in memory of the two murdered students. It is on the grounds of Hebrew University, between the archeology building and the Buber Ross building.