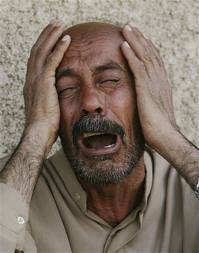 Car bombs and mortar attacks kill at least 17 in Iraq
Jan 26, 2014
BAGHDAD (Reuters) – At least 17 people were killed in violence across Iraq on Saturday, including by car bombs and a mortar attack on a Shi'ite Muslim village, police and medical sources said.
The deadliest attack took place in a village near the Iraqi city of Baquba, 65 km (40 miles) northeast of Baghdad, where three mortar bombs killed six people, police said.
A woman and a child were among the victims, five of whom belonged to the same family, the police said, adding that the assailants might have been aiming at a nearby police station.
h/t: Vlad via Magic Martin
Tards yodel while Cairo burns. 
Tanks and gunfire in Cairo today
7 cops among 20 killed in Karachi
Posted: January 26, 2014
KARACHI: Seven policemen were among 20 people killed in separate incidents of violence, including bomb attacks, on Saturday.
The largest incident of terrorism took place outside the residence of the Chairman of the Mohajir Qaumi Movement (MQM-Haqiqi), Afaq Ahmed, in Landhi No. 6 where at least six police personnel were killed in back-to-back bomb and gun attacks on two police mobile vans, police said.
Following the attack, another police mobile van was sent from the Landhi police station to the spot of the first attack, but it was also attacked by some armed men on motorcycles near Al-Razi Hospital in the Landhi No. 6 area, who used small firearms to target the police personnel, killing three more personnel and injuring two of them.
4 killed in Taliban suicide attack
Sunday, January 26, 2014
KABUL, Afghanistan — An Afghan official said a suicide bomber has attacked a military bus in Kabul, killing at least four people.
General Mohammad Zahir Azimi, spokesman for the Defense Ministry, said the bomber waited on foot Sunday in the east of the city for the bus to arrive before setting off his explosives.
Azimi said the dead included two soldiers and two civilians, one of whom was a woman. He said 22 others were wounded.
Syrian rebel infighting so deadly even Al-Qaeda leader is calling for a truce
Fadi al-Halabi/AFP/Getty ImagesA Syrian woman reacts following an airstrike in the northern Syrian city of Aleppo on Jan. 23, 2014.
GENEVA — Syria's government said stopping terrorism — not talking peace — was its priority, while the Western-backed opposition said "the road to negotiations" had begun, offering a glimmer of hope Thursday for a way to halt the violence that has killed more than 130,000 people.
The two sides did not meet face-to-face, but were buffered by a famously patient UN mediator who shuttled between representatives of Bashar Al-Assad, the Syrian president, and members of the opposition trying to overthrow him. And they did not seem ready to do so Friday as originally scheduled.