A lot has happened to the United States of America since I moved to Finland 27 years ago, and much of it is not good.
UPDATE: H/T: Sheik Yer'Mami (PBUH) via Moonbattery
Smoking Gun on EPA's Anti-Capitalist Agenda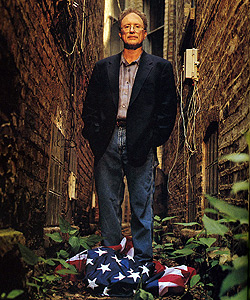 Seeing red flags with the hammer and sickle accompanied by socialist/communist slogans being shouted in the streets of its cities (that the MSM carefully weed out from their video footage aired in their nightly reports) is a sight I thought that I would never see. I was wrong.
I keep saying that the radicals of the 60's and 70's are now holding the reigns of power in America (and abroad), because it's true. It's true in America as well as in Finland, however in the latter, radical egalitarianism has already been attempted and proven to be a failure, with many taking a step or two back, while in the US the utopian dream has yet to be achieved, and it's still, game on. This shows a total lack of knowledge and confidence on the behalf of so called republicans, who have been asleep at the switch for the past 30 years since the Ronald Reagan era.
I can't say that I know how it will all turn out, the fire walls in the US constitution have been thoroughly breached, there's a been two elections in which a extremist radical has been voted into the White House, with his administration and government positions filled by him with like minded totalitarians. In short, I'm stunned at their success.
NOTE: To anyone who believes I'm making something out of nothing, what will it take to persuade you otherwise, tanks in the streets and gulags?
Cop-Killer, Communist, Terrorist Pen Nightmarish Blueprint for 'Socialist USA'
January 22, 2014 – 4:40 PM
Convicted cop-killer, communist, and a radical terrorist call capitalism 'cancer' and plan to 'replace' it.
---
Marxist leftists have prepared a nightmarish blueprint for American socialism in a new revolutionary "book of imagination."
The new book, "Imagine Living in a Socialist USA," was edited by Frances Goldin who praises "life-enhancing socialism" in the preface. The 281 page manifesto showcases 31 utopian essays written by dangerous criminals, prominent liberals, and self-described communists – all for just $10.11.
It imagines a "free" and "enlightened" socialist United States, promoting radical notions such as eliminating prisons and creating mandatory worker-owned businesses. More dangerously, it details "how to get from where we are to where we want to be," and the authors seem determined to destroy "rapacious" and "cancerous" capitalism, by revolution if necessary.
The new book is stocked with pieces featuring Bill Ayers, Michael Moore and even Mumia Abu Jamal. It's a perfect fit for Karl Marx's library and brought together calls for establishment of grade and competition-free schools and the greatest hits of terrible Occupy Wall Street demands into a strident call for "the Third American Revolution."
Here, are some of the most extreme and famous among this group of radicals and liberal journalists:
Joel Kovel Demands Revolution to Kill Capitalist 'Cancer'