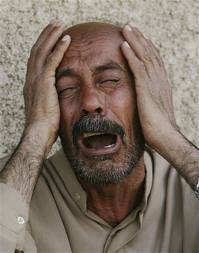 Dane killed in Kabul terror attack
14 foreigners among 21 people killed in a Taleban attack on a restaurant yesterday
A member of the Afghan security forces stands outside the Kabul restaurant that was the site of yesterday's attack (Photo: Scanpix)
January 18, 2014 by PS
A Danish woman was killed in a Taleban terror attack on a Lebanese restaurant in Kabul, Afghanistan, yesterday.
The woman, 34, had arrived in January to work with the EU's police mission in Afghanistan, EUPOL, and had previously worked in Afghanistan for the UN, Ritzau reports.
According to AFP, 21 people died during the attack – 14 of them foreigners – while five remain injured.
Despicable crime
"It's terrible that a Danish staff member of the EU's police mission in Afghanistan, who was sent by Denmark and the Foreign Ministry, was killed in a terror attack in Kabul," the foreign minister, Holger K Nielsen (SF), stated.
Lebanese owner who died defending Kabul restaurant
By Lyse DoucetBBC chief international correspondent
"This is the kind of attack in Kabul that horrifies and hurts in equal measure"
Kamal Hamade made the best chocolate cake in Kabul, the best Lebanese food and, he thought, the best evacuation plan.
But the plan wasn't good enough to save him and others who died with him when the Taliban attacked his Taverna du Liban restaurant tucked away in a quiet street of one of the Afghan capital's oldest neighbourhoods.
But his safety measures did save many lives.
And Kamal is reported to have grabbed a gun from his office to take on his assailants. He was shot dead defending his beloved restaurant.
Officials: Iranian diplomat killed in Yemen
By AHMED AL-HAJ23 hours ago
A Yemeni police vehicle patrols outside of the Iranian ambassador's residence in Sanaa, Yemen, Saturday, Jan. 18, 2014. Iranian state television announced that Ali Asghar Asadi, Iran's economic attache in Sanaa, was "martyred." (AP Photo/Hani Mohammed)
SANAA, Yemen (AP) — Gunmen killed an Iranian diplomat in a drive-by shooting in Yemen's capital Saturday, security and medical officials said, the latest attack on Iran's diplomatic corps in the Middle East in recent months.
Iranian state television announced that Ali Asghar Asadi, Iran's economic attaché in Sanaa, was "martyred." The broadcast said Asadi was attacked while driving and suffered four gunshot wounds to the chest and stomach. It did not elaborate.
Gunmen kill six pro-government Sunni militiamen in Iraq
BAGHDAD Sun Jan 19, 2014 5:20am EST
(Reuters) – Gunmen wearing army uniforms killed at least six government-backed Sunni Muslim militiamen at a checkpoint near the Iraqi city of Baquba, 65 km (40 miles) northeast of Baghdad, on Sunday, police said.
They said the victims included the local leader of the "Sahwa" (Awakening) tribal militia, along with two of his sons.
Sahwa fighters, who helped U.S. troops turn the tide against al Qaeda-linked militants in Iraq from 2006 onwards, are often targeted by insurgents battling the Shi'ite-led government.
Two years after U.S. troops left Iraq, violence has climbed back to its highest levels since the Sunni-Shi'ite bloodletting of 2006-2007, when tens of thousands of people were killed.
The United Nations says nearly 9,000 people died violently in Iraq last year, all but 1,050 of them civilians.