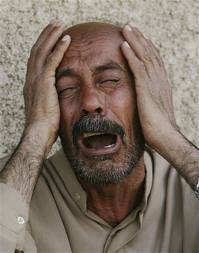 Clashes Between Troops and Tribe in Yemen Kill 5
SANAA, Yemen January 17, 2014 (AP)
By AHMED AL-HAJ Associated Press
Military and security officials in Yemen say fighting in the country's south between the army and tribesmen has killed five people.
The officials say armed men from the southern secessionist movement attacked a military checkpoint Friday, sparking clashes with troops in Dali. The officials say at least 20 civilians were wounded.
The officials spoke on condition of anonymity because they were not authorized to brief journalists.
The clashes likely were in retaliation for the military firing a shell that landed near a funeral tent in Dali in December, killing 19 people. That sparked renewed fighting in the restive south, where the secessionist movement is strong.
Afghan police say suicide bomber attacks popular Kabul restaurant; reports of casualties
Afghan police forces assist an injured man at the site of an explosion in Kabul, Afghanistan, Friday, Jan. 17, 2014. Afghan police said a suicide bomber attacked a Kabul restaurant popular with foreigners, officials. (AP Photo/Massoud Hossaini) (THE ASSOCIATED PRESS)
KABUL, AFGHANISTAN –  Afghan police say a suicide bomber has attacked a restaurant in central Kabul that is popular with officials, foreigners and business people. There were reports of casualties.
Kabul police spokesman Hashmat Stanikzai said the attack took place just after dark Friday against a Lebanese restaurant in the diplomatic quarter.
Deputy Interior Minister Ayoub Salangi says there are reports of casualties but had no immediate details.
'We don't have long,' say Syrian rebels locked in battle with Al Qaeda, Assad
By Paul Alster
FoxNews.com
Syrian rebels are at war with both President Assad's forces and Al Qaeda fighters. (Reuters)
Syrian rebels "don't have long" as they face not only the army of President Bashar al-Assad, but fierce attacks from the Al Qaeda fighters who once battled alongside them, an opposition leader told FoxNews.com.
In recent days, the rebels have killed five top Al Qaeda leaders in eastern Syria, said Oubai Shahbandar, Turkey-based spokesman for the Syrian Opposition Coalition. He said taking on Al Qaeda, which is believed to be seeking to topple Assad not to bring about democracy, but to establish a base for terror operations, is stretching the Free Syrian Army to the breaking point.
Clashes during referendum protests in Egypt kill at least three
(AFP) / 18 January 2014
At least three people were killed in the clashes on Friday, as Mursi supporters faced off with tear gas- firing police in several cities. 
Smoke fills the area during clashes between supporters of Mohammed Mursi and riot police in Cairo on January 17, 2014. – Reuters
Official results are due Saturday of an Egyptian referendum billed as a popular endorsement of president Mohammed Mursi's overthrow, with tensions high following deadly clashes between his supporters and police.
At least three people were killed in the clashes on Friday, as Mursi supporters faced off with tear gas- firing police in several cities, security officials said.
The interim authorities trumpeted the Tuesday-Wednesday poll as a chance for voters to show their support for the army's overthrow in July, after massive street protests, of Egypt's first freely elected president.
Flagship state-owned daily Al Ahram hailed a 98 per cent vote in support of the new charter drafted to replace the one adopted under Mursi in 2012.
The Islamists, who boycotted the vote, described it as a farce and predicted it would culminate in the sort of massive electoral fraud that characterised Hosni Mubarak's three-decade rule, ended by the Arab Spring uprising of 2011.
A coalition led by Mursi's Muslim Brotherhood called for further protests.