Because, obviously, they haven't a problem with it.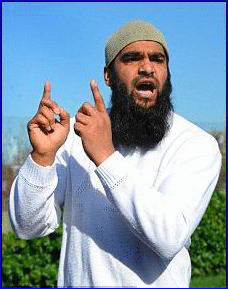 RADICAL SYRIAN CLERIC SECURES US VISA DESPITE ENDORSING SUICIDE BOMBINGS
by JOHN ROSSOMANDO 14 Jan 2014 43POST A COMMENT
A Syrian sheik who labeled all Jews as legitimate targets for suicide bombers and who supports the death penalty for homosexuals is the latest extremist Muslim cleric raising money for Syrian-American groups supporting dictator Bashar al-Assad's ouster.
Sheik Mohammad Rateb al-Nabulsi is in the middle of an 11-city tour across America on co-sponsored by the Syrian American Council (SAC) and the Wylie, Texas-based Shaam Relief.
A promotional announcement hails al-Nabulsi as "an internationally-known Muslim scholar, renowned for his scholarship of Islam, who has lent his formidable clerical authority to support human rights, tolerance and respect for all."
But tolerance is not part of his preaching when it comes to perceived enemies.
Asked about Palestinian suicide bombings in April 2001, al-Nabulsi said he was "too insignificant to give a Sharia ruling or fatwa." Instead, he extensively cited from two previous fatwas from radical clerics which bless such attacks.
"All the Jewish people are combatants" acceptable as targets for attacks in Israel, al-Nabulsi wrote in his "ruling on martyrdom operations in Palestine."