Relegating these morons to the dark alley ways through the power of persuasion would be the best method and outcome.
Once a championed beacon of multiculturalism on the traditional Left, he is now categorized as a member of the "far-Right", but he still remains a socialist nonetheless, keep that in mind.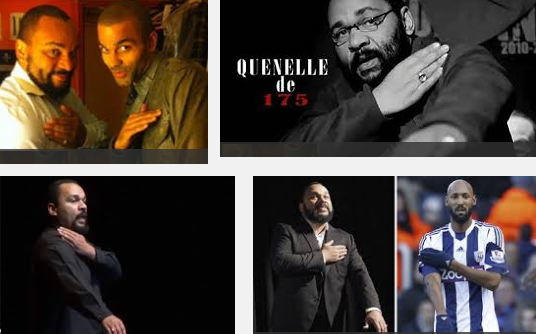 Pressure mounts on French comic in racism row
By Marianne Barriaux 4 hours ago
Paris (AFP) – The mayor of Paris has joined France's interior minister in calling for comedian Dieudonne, whose vitriolic brand of humour targeting Jews has caused outrage, to be banned from the stage.
Anti-racist groups also threatened legal action against a provocative arm gesture Dieudonne makes which has been described as an upside-down Nazi salute.
Dieudonne has been part of France's comedy scene for years, but while he started out with a Jewish comedian in sketches that mocked racism, he gradually veered to the far-right and alienated some fans with anti-Jewish comments — one of his latest being a joke about gas chambers.
Speaking on Europe 1 radio, Paris mayor Bertrand Delanoe likened Dieudonne to a criminal who "defends crimes against humanity".
"We must ban the performances (of the comedian)," he said, echoing recent comments made by Interior Minister Manuel Valls.
Dieudonne has been fined several times for defamation, using insulting language, hate speech and racial discrimination, and over his use of the provocative straight arm gesture known as the "quenelle".
But the 47-year-old comedian argues that the horrors of the Holocaust are given too much focus to the exclusion of other crimes, like slavery and racism, and says the gesture merely represents his anti-establishment views.
The "quenelle" has landed several personalities in hot water, including footballer Nicolas Anelka, who recently used it to celebrate a goal.