We live in such an age of mediocrity.
Diana shows the vast disconnect and hypocrisy in the thinking of the U.S.'s fake media, failure to depict the tyrants for who they are, because for the most part, Communism (and socialism in general) has not undergone the same (justifiable) vilification that National Socialism experienced.
The mere fact that some US citizens and residents feel emboldened to wear pictures of Mao, Lenin and Che Guevara on T-shirts and hoist the communist flag and other symbols of international socialism, shows that there's a drastic need to educate the youth to the horrors of statism/socialism in all of its various forms.
Then again, there is no Nazi Party today, and Hitler is a universal symbol of evil. Why? In defeat, Nazi Party leader Hitler and his slaughters were exposed, judged and condemned. Nothing of the kind has ever happened to communism, and in China, of course, Mao's Communist Party won the war. Despite Red China's successful entry in recent decades into the world market, it remains a totalitarian dictatorship, ruled by the same Communist Party that Mao led and seized power with in 1949.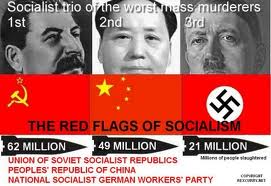 Written by: Diana West
Thursday, January 02, 2014 5:50 PM  
This week's syndicated column
The reporting on China's commemoration of the 120th birthday of Mao Zedong all seemed to come from the same angle. Festivities were "understated" (Associated Press). Events were "scaled back" (Reuters). The following headline, which ran on the Fox News website over the AP story, is typical: "China marks Mao's 120th birthday with low-key celebrations." The story opens: "China's leaders bowed three times before a statue of Mao Zedong on the 120th anniversary of his birth Thursday in carefully controlled celebrations that also sought to uphold the market-style reforms that he would have opposed."
Forget for now the "market-style reforms." Only three times? How "muted"! That, by the way, was the word CNN used to describe the occasion.
But there's something wrong with this media picture. Imagine if, on Adolf Hitler's upcoming 125th birthday, German Chancellor Angela Merkel were to bow three times in front of the Nazi mass-murderer's statue. Would journalists convey how "ambivalent" (Voice of America's word for post-Mao China) post-Hitler Germany was about Hitler these days? Hardly. They would most likely write in unconcealed horror over the twisted but enduring appeal of Nazism. Why are we not equally repelled when Chinese leaders bow in front of a statue of a communist mass-murderer? (I examine this double standard at length in my book, American Betrayal.)
The New York Times and CNBC ran headlines wishing "Happy Birthday, Chairman Mao," but, again, don't expect similar felicitations on Hitler's birthday. It's communists who always get a pass – or a yawn. "Communist Party feeling uneasy about Mao ahead of his birthday celebrations," the Washington Post reported. With my imaginary Merkel example in mind, the paper's update would read: "Nazi Party feeling uneasy about Hitler ahead of his 125th birthday." Somehow, though, it's hard to imagine news editors being so blasé.