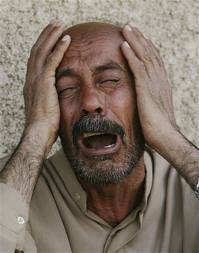 Two killed, 29 injured in bus attack in Pakistan's Quetta
IANS | Jan 2, 2014, 09.00 AM IST
ISLAMABAD: At least two people were killed while 29 injured in Pakistan's Balochistan province when a pilgrims' bus was attacked in Quetta city on Wednesday evening.
"So far, there have been two deaths, while the count of the injured has risen to 31," reported Geo TV citing Abdul Raheem, the information minister for Balochistan.
As per initial reports the target of this sectarian terrorist act was a bus full of pilgrims coming from Iran. The blast struck the bus at the city's Akhtarabad bypass.
The bus had just entered Quetta after crossing Pakistan-Iran border carrying about 30 to 35 pilgrims who were coming back home after visiting holy places in Iran, said a police official Abdul Razzaq Cheema.
Beirut blast kills at least five in Hezbollah stronghold
The BBC's Rami Ruhayem: "A lot of this is related to what is going on in Syria"
At least five people have been killed and more than 60 hurt in a car bomb which hit a suburb of Lebanon's capital Beirut, media and officials say.
The southern suburb is a stronghold of the Shia militant group Hezbollah.
Hezbollah's al-Manar TV station said the blast had destroyed part of a facade of a building in a densely populated area of Haret Hreik district.
The city has been recently been hit by attacks linked to heightened Sunni-Shia tensions over the Syrian war.
Rocket sets bus afire, killing 25, Syrian opposition group says
By Salma Abdelaziz, CNN
December 31, 2013 — Updated 1907 GMT (0307 HKT)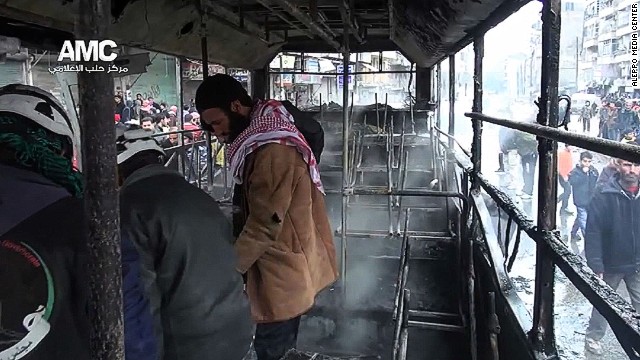 Rocket strike kills at least 25 in Aleppo
(CNN) — At least 25 people were killed Tuesday when a rocket struck a bus in Syria's commercial capital of Aleppo, the opposition Aleppo Media Center said.
The strike from the government controlled Al-Nayrab military airbase burned all those inside the bus beyond recognition, the center said.
Children, women and men were on board, and the wreckage made it impossible to know immediately "the final death toll of the massacre," the group said in a prepared statement.
Civilian death toll in Iraq highest in years, fueling concern of Al Qaeda 'resurgence'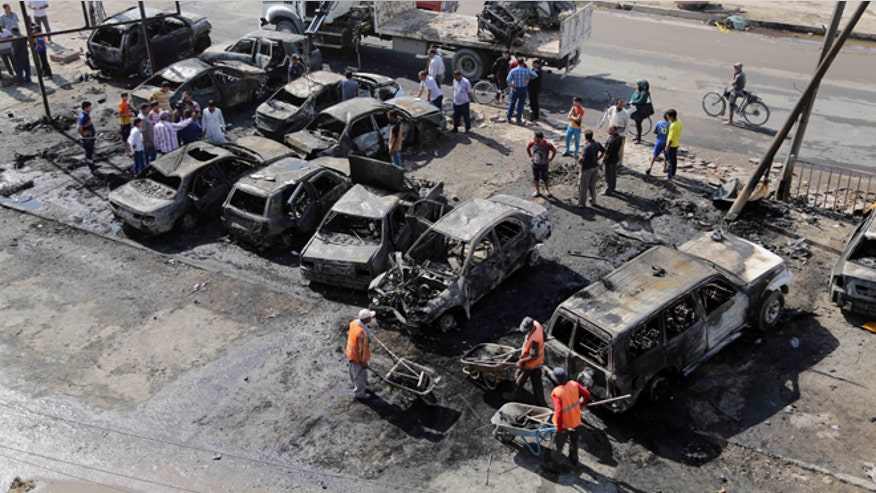 Oct. 27, 2013: Baghdad municipality workers clear debris while citizens inspect the site of a car bomb attack in a neighborhood of Baghdad, Iraq.AP
Violence in Iraq soared in 2013 to levels not seen in years, U.N. officials reported this week, stoking concerns that the country is descending into the kind of sectarian bloodshed that gripped the country before the U.S. troop surge.
The United Nations said 7,818 civilians were killed in 2013, a return to 2008 levels. The startling figure follows warnings from lawmakers and analysts that the violence threatens to undo hard-fought gains by the United States.
Afghanistan shooting: Yalda Waziri killed in Herat
Gunmen in Afghanistan have killed a senior female official in the western city of Herat, police say.
Yalda Waziri, who was 25, worked for the local government.
She was shot in the head by two unknown attackers on a motorbike as she left her office in the city centre and died at the scene.
Ms Waziri is the latest in a number of senior female officials to be killed in recent months. There was no immediate claim of responsibility for her murder.
Soldiers killed by suicide bomber in Yemen
Multiple attacks on Yemen police buildings leave at least three dead and many wounded, security sources say.
Last updated: 31 Dec 2013 15:58
The car bomb attack targeted a police compound in the southern Yemeni city of Aden [Reuters]
A suicide car bombing at the security headquarters in Yemen's southern city of Aden killed at least three soldiers in what appeared to be an al-Qaeda attack, police have said.
The car exploded as it rammed into the front gate of the Aden security offices at dawn on Tuesday, wounding at least seven men, a police official said.
Another police source told the AFP news agency that two other attackers in an explosives-laden car attempted to ram through the gate after the first bombing, but were stopped by security forces.
The two "terrorist elements" are being questioned, he said. Security sources told Reuters news agency that the men had admitted links with al-Qaeda.
Over 20 Sudanese soldiers killed in North Darfur: SLM-AW rebels
January 1, 2014 (KHARTOUM) – The rebel Sudan Liberation Movement led by Abdel-Wahid Al-Nur (SLM-AW) said they killed over 20 Sudanese soldiers in an attack carried out in North Darfur state.
The SLM-AW military spokesperson, Mustafa Tambor, said in a statement issued on Wednesday they launched an attack on the Sudanese army base of Beesa near the town of Kabkabia in north Darfur.
Tambor further added that they killed 23 soldiers and seized 3 Land Cruiser vehicles and burned 5 others, 13 Kalashnikov rifles, 4 B10 machine guns, one 120 machine gun, 9 shells, and various ammunition boxes.
He said their fighters fiercely clashed with government forces and its allied militias, pointing that enemy forces fled the base leaving several dead and wounded.