Time repeal hate speech laws, in full.
I hear that he has spiteful things to say about Israel as well, but I doubt that they're bring him up on charges because of that.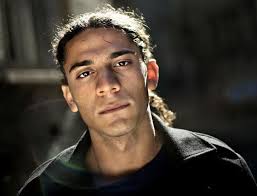 Danish Muslim Apostate Faces Hate Speech Charges
by Andrew Harrod
Frontpage Magazine
January 2, 2014
"Muslims love to take advantage of" free speech, Danish-Palestinian poet Yahya Hassan says, "and as soon as there is someone else saying something critical against them, they want to restrict it." In an action previously indicated by this writer, Hassan is now personally facing this double standard in Danish "hate speech" charges for his anti-Islam comments.
Following Danish-Iranian artist Firoozeh Bazrafkan's conviction under Danish Penal Code Section 266b (in Danish here) for condemning Islam as misogynist, a local Muslim Aarhus politician demanded a similar prosecution of Hassan. His poetry "says that everybody in the ghettos like Vollsmose and Gellerup steal, don't pay taxes and cheat themselves to pensions," the Somali-Dane Mohamed Suleban stated after reporting Hassan to the police on November 27. "Those are highly generalizing statements and they offend me and many other people." Authorities are currently considering Section 266b charges for, according to one English translation, any public "communication by which a group of persons are threatened, insulted or denigrated due to their race, skin color, national or ethnic origin, religion or sexual orientation."
The 18-year-old Hassan's eponymous debut book contains about 150 poems, "many of which are severely critical of the religious environment he grew up in" according to Wall Street Journal reporters Clemens Bomsdorf and Ellen Emmerentze Jervell. Written in all capital letters, Hassan's poems treat "issues like the Holocaust, anti-Semitism, child abuse, and the interplay between violence and religion" with "[p]rofanity and vivid analogies."
Yahya Hassan has sold 80,000 copies following an October 17 release in the comparatively small Danish market and is expected to exceed 100,000 copies by Christmas. Hassan's publisher Gyldendal reports that Danish poetry books are fortunate to sell 500 copies. A recent book forum honored Hassan as the debut author of the year and an English translation of his poetry is underway.