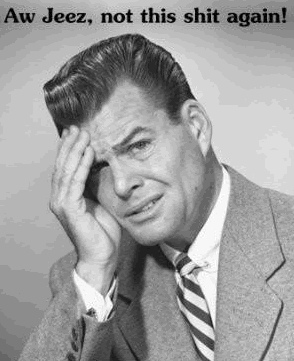 The "Scoop" or quenellle has been made famous in Europe by French anti-Semite comedian Dieudonné M'bala, it's a take on the traditional Roman/National Socialist (NAZI) hand salute which is forbidden in many European countries. Europe is once again faced with an infatuation with totalitarian symbolism, whether it comes in the form of the EU itself, or hand gestures in the streets.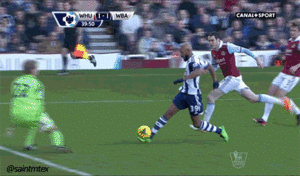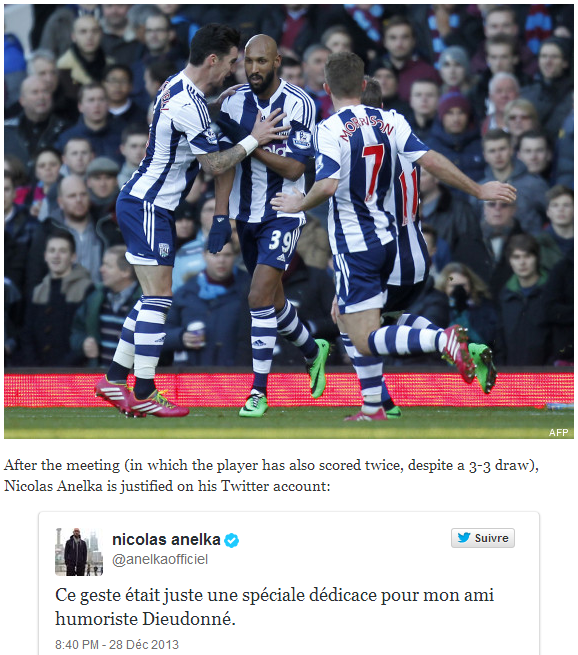 This gesture was just a special dedication to my friend comedian Dieudonné.
Anelka, two goals, one scoop
Le'equipe.fr:  […]
Two realizations of real center forward. The first after a long full opening axis Brunt, on which he perfectly adjusted Jaaskelainen (40th). Second at close range on a rebound off the Finnish porter (45 +1) The first period XXL, which marks return to the forefront of Nicolas Anelka, author hitherto only seven appearances this season. But his athletic performance may be overshadowed by a gesture that done during the celebration of his first goal. Then he goes to the corner flag, all smiles, Anelka makes a dumpling. A polemical gesture popularized by Dieudonné described as "anti-Semitic" by Manuel Valls, the interior minister on Saturday in Le Parisien .