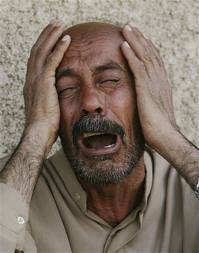 4 killed as Iraqi troops arrest Sunni lawmaker
By SINAN SALAHEDDIN
1 hour ago
BAGHDAD (AP) — Iraqi officials say troops arrested a Sunni lawmaker sought on terrorism charges and killed his brother and three guards after they opened fire on the officers.
A police official says military and security forces arrived at dawn Saturday at the home of Ahmed al-Alwani, a prominent leader of Sunni protests against Iraq's Shiite-led government.
The official says al-Alwani's guards opened fire and the shootout in the western city of Ramadi lasted nearly an hour. Twelve guards and four soldiers were wounded.
Civilians, soldiers and policemen gather at the site of an explosion in downtown Beirut December 27, 2013. Former Lebanese Minister Mohamad Chatah, who opposed Syrian President Bashar al-Assad, and four other people were killed in a massive bomb blast that targeted his car in Beirut on Friday, security sources said. REUTERS/Mohamed Azakir (LEBANONCIVIL POLITICS – Tags: POLITICS CIVIL UNREST TPX IMAGES OF THE DAY)
By Samia Nakhoul and Stephen Kalin
Beirut bomb kills Lebanese ex-minister who opposed Assad
By Samia Nakhoul and Stephen Kalin 11 hours ago
BEIRUT (Reuters) – Former Lebanese minister Mohamad Chatah, who opposed Syrian President Bashar al-Assad, was killed in a massive bomb blast on Friday which one of his political allies blamed on the Shi'ite Hezbollah militia.
The attack in Beirut killed five other people and threw Lebanon, which has been drawn into neighboring Syria's conflict, into further turmoil after a series of sectarian bombings aimed at Shi'ite and Sunni Muslims over the past year.
Former prime minister Saad al-Hariri accused Hezbollah of involvement in the killing of Chatah, his 62-year-old political adviser, saying it was "a new message of terrorism".
"As far as we are concerned the suspects … are those who are fleeing international justice and refusing to represent themselves before the international tribunal," Hariri said , referring to the upcoming trial in The Hague of five Hezbollah members suspected of killing his father Rafik in 2005.
Middle East Christians being 'massacred': Anglican leader
December 25, 2013 6:44 AM
Archbishop of Canterbury Justin Welby leads Sunday mass at the All Saints Cathedral in Nairobi October 20, 2013 (AFP Photo/Tony Karumba)
London (AFP) – Christians in the Middle East are being "attacked and massacred" and driven into exile, the leader of the world's Anglicans said Wednesday in his first Christmas sermon.
Justin Welby used his first Christmas Day address as Archbishop of Canterbury to remember those suffering for their faith in the cradle of Christianity.
Today, singing of Bethlehem, we see injustices in Palestine and Israel, where land is taken or rockets are fired, and the innocent suffer," he told the congregation at Canterbury Cathedral in southeast England.
We see injustice in the ever more seriously threatened Christian communities of the Middle East.
They are attacked and massacred, driven into exile from a region in which their presence has always been essential.
We see terrible news in South Sudan, where political ambitions have led towards ethnic conflict," he said.
Egypt: 3 killed as police clash with protesters
The Associated Press Posted: Dec 27, 2013 5:23 PM ET Last Updated: Dec 27, 2013 5:23 PM ET
Egyptian security forces fired tear gas and clashed with hundreds of supporters of ousted ex-President Mohammed Morsi. (Ahmed Abd El Latif/El Shorouk newspaper/The Associated Press)
With water cannons and tear gas, Egyptian riot police battled on Friday with hundreds of rock-throwing supporters of ousted ex-President Mohammed Morsi in clashes across the country that left three dead, according to officials.
Authorities meanwhile unveiled a new tactic to contain protests called by Morsi's Muslim Brotherhood group and its allies, calling on large families to post armed men near the likely sites of demonstrations.
Friday is the day of the week in Egypt in which protests are typically at their largest. The day's demonstrations follow an announcement by the authorities that they would use the Brotherhood's new designation as a terrorist organization to impose harsh prison sentences on protesters, and poses the first test of whether that will deter them.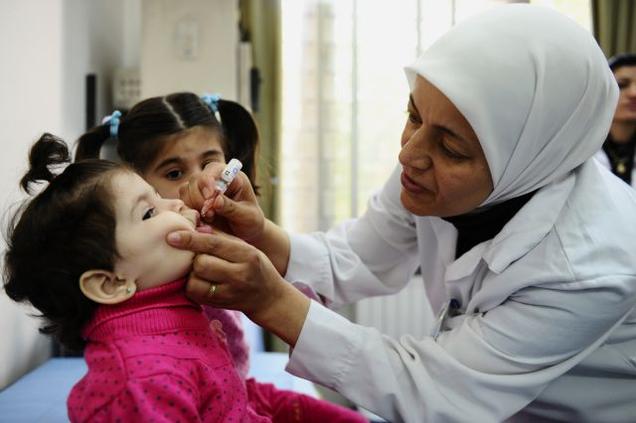 Gunmen Kill Anti-Polio Health Worker in Pakistan
PESHAWAR, Pakistan December 28, 2013 (AP)
Pakistani police say gunmen attacked an anti-polio vaccination center in the country's northwest and killed a medic on duty, then fled the scene.
Police official Raheem Khan says another technician was also wounded in Saturday's attack on the outskirts of Peshawar, the capital of the Khyber Pakhtunkhwa province.
The health facility is run by the party of cricketer-turned-politician Imran Khan and authorities are using it to vaccinate children against polio.
No group claimed responsibility for the attack, but militants have killed several polio workers and police protecting them in recent months.