We clearly have the wrong leaders and advisers in the highest office of the land. If we had analysts like Clare Lopez, Jennifer Dyer, Stephen Coughlin advising a conservative president, we (the nation as a whole) would be that much closer in understanding the enemy, and defeating them.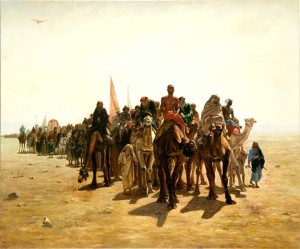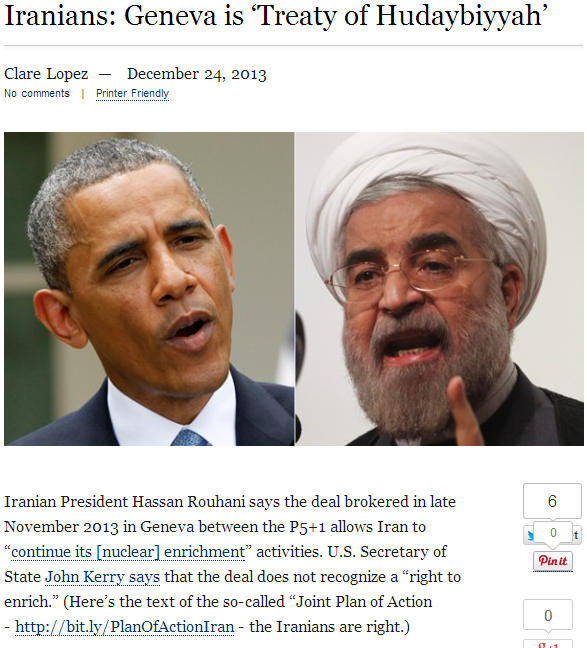 President Obama hailed the Geneva agreement as the most "significant and tangible" progress to date toward ensuring that Iran "cannot build a nuclear weapon." Iranian Foreign Ministry spokesman Marzieh Afkham said "There is no treaty and no pact." (It's a "letter of intent," say the Iranians.) For his part, the Iranian negotiator, Foreign Minister Javad Zarif, exulted that the document explicitly recognized the inclusion of an Iranian enrichment program in the final deal (it does).
There's at least one major point of agreement, however, for both Americans and Iranians (although it's doubtful the U.S. negotiating team actually understands what it means). That single point of agreement is about the temporary nature of the pact/letter/Joint Plan of Action: first it was going to be for six months, then it would be for six months after a few more details were worked out, then the technical discussions in Vienna collapsed on 11 December, then Secretary Kerry said the talks would continue in a few days. And then Mohammad Sadeq Al-Hosseini, formerly a political advisor to Iranian President Khatami and now a TV commentator, clarified everything.