Now they'll be really, really, really angry and radical-like.
Remember folks, the Gaza Strip is being run by the branch of the Egyptian Muslim Brotherhood, Hamas, and they drag their executed through the streets and throw their rivals from tall buildings (an Islamic precept in murdering homosexuals)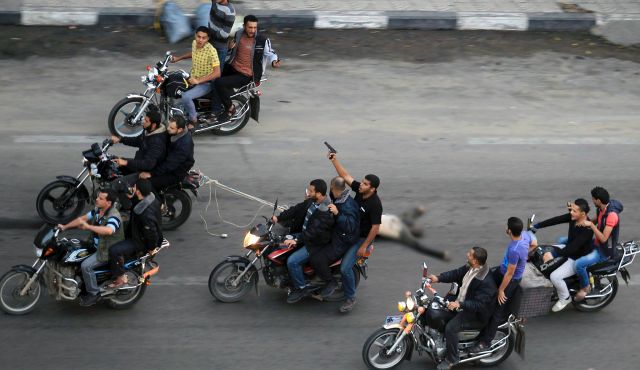 Egypt Brotherhood may radicalise after terror listing
AFP By Samer AL-ATRUSH
December 26, 2013 9:19 AM
Two Egyptian women, supporters of deposed president Mohamed Morsi, sit in front police standing behind barbed wire outside the HQ of the Republican Guard in Cairo on July 8, 2013 (AFP Photo/Mahmud Hams)
Cairo (AFP) – The military-installed government's listing of Egypt's Muslim Brotherhood as a terrorist group signals determination to uproot its vast grass-roots network, possibly radicalising the Islamists as they go underground, analysts said.
Security forces had already decimated the group following Islamist president Mohamed Morsi's overthrow in July, with more than 1,000 people killed and thousands more imprisoned, including the Brotherhood's top leadership.
The last major crackdown on the Brotherhood, by president Gamal Abdel Nasser in the 1950s and 1960s, led several members to break off and form more radical groups that are now seen as precursors to Al-Qaeda.
Now analysts fear a similar process could unfold, with a new generation of activists breaking from the Brotherhood's more cautious leadership, most of whom are imprisoned with little communication to the outside world.