This woman is an embarrassment and a menace.
Allowing morons like Corn-berg to head influential political bodies will lead to an Iranian nuke, of that I'm certain.
She added that Iranian officials told her "the EU plays a positive role in the world, but it is not visible enough in the Middle East."
NOTE: The EU is a laughing stock, it's taken as seriously as the Obama administration, which means not at all.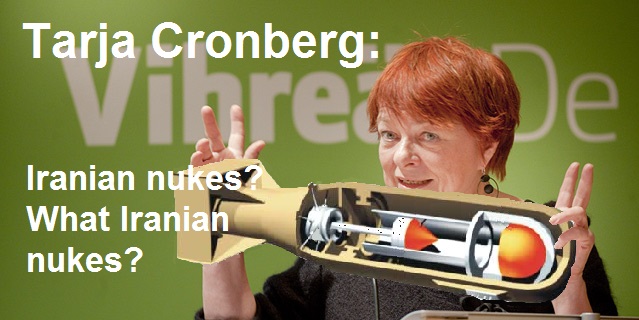 Member states want EU embassy in Iran, MEP says
TODAY @ 12:04
BY ANDREW RETTMAN
BRUSSELS – EU countries have informally told the European Parliament they want the Union's foreign service to open an embassy in Iran.
Tarja Cronberg, a Finnish Green MEP who chairs the parliament's Iran delegation, said member states' ambassadors in Tehran backed the idea when she met them in the Iranian capital on an official trip earlier this month.
"We held a meeting with all the [EU] ambassadors and they really stressed the importance of more open exchange … They said the best tool for this would be an EU embassy or maybe the creation of an EU special representative [for Iran] as a first step," she told EUobserver.
She noted that: "The Iranians are also open to the idea … We mentioned it to the foreign minister and the Iranian President's chief of staff and they were generally positive."