Islamonazi war criminals.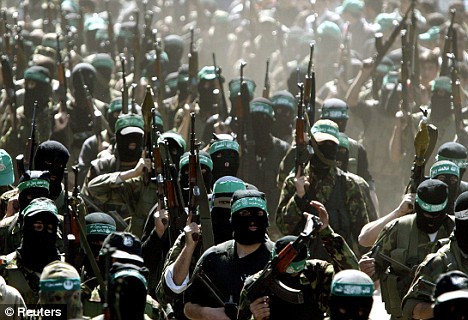 Lets call a spade a spade, the Hamas are involved in war crimes, the intentional firing of weapons upon the civilian population without any known military advantage. The idea is to sow fear among the people with no other clear objective, and that's a war crime, with each launch. The media who fail to report it as such, only show their ignorance and/or ingrained bias against the Jewish state.
IAF strikes Gaza following second rocket fired at Israel in 24 hours
By YAAKOV LAPPIN, JPOST.COM STAFF
LAST UPDATED: 12/26/2013 23:06
Air Force retaliates to Gaza rocket-fire with strikes, 2 Palestinians reported injured; PM blames Hamas for recent attacks on Israel.
Trails of smoke from Gazan rockets fired at Israel Photo: Amir Cohen / Reuters
The Israel Air Force struck two targets in Gaza in response to rocket fire on southern Israel on Thursday. The targets struck were a weapons manufacturing site in central Gaza and a weapons storage site in the North of the Strip.
Two Palestinians were wounded by the air strikes, Palestinian news agency WAFA reported.
The IDF also said the targets were struck accurately, adding that all planes returned to base safely.
The strikes were a response to rocket fire on southern Israel on Thursday evening, that activated Code Red sirens in the Hof Asheklon Regional Council for the second time in 24 hours.
The first incident was on Thursday shortly after midnight when two Gazan rockets were fired at the southern coastal area.
All rockets in the past 24 hours landed in open fields and there were no injuries or damages.