Whether they reside in Gaza City or in Ramallah, the evil mindset is the same.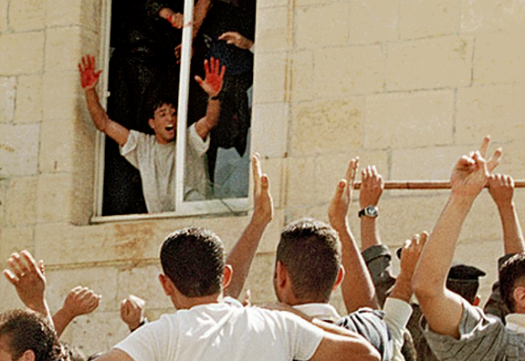 New Details of 2000 Ramallah Lynch of IDF Soldiers Revealed
The Yediot Aharonot newspaper revealed Tuesday new details of the brutal murders of reservists Yossi Avrahami and Vadim Nurzhitz (z"l). The soldiers were lynched in Ramallah in October 2000.
The soldiers lost their way to their base on October 12, 2000, ending up in the Palestinian Authority (PA) controlled city of Ramallah by mistake. PA police forces took the two into custody.
Word reached local PA residents that undercover Israeli agents were being held in the building; some 1000 rioters reportedly gathered outside. The IDF declined to take action to rescue the soldiers; they were eventually stormed by the rioters.
One PA terrorist, Aziz Salha, got to the soldiers first, where he brutally murdered them – stabbing, beating, and dismembering them along with other rioters. He famously then stuck his bloodstained hands out of the window of the room where the two were held, eliciting cheers from the crowd.
The crowd then dragged the bodies to a central square, beating them further before setting up a victory celebration. PA police forces did not attempt to intervene and in some cases, participated in the barbarism.
A few weeks after the murder, the victims families filed a claim valuing 64 million shekels against the PA to the Jerusalem District Court. The victims were represented by attorneys Nitsana Darshan-Leitner and Roy Kochavi.
Now, transcripts of the terrorists' remarks recorded during those proceedings have been released for the first time.
Ra'ad A-Sheikh, a Ramallah cop spotted a red Ford Sierra approaching the station. He asked the soldiers what they were doing in the city.
More here. H/T: Alexis Worlock via VirtualJerusalem.com
koranimals………