Nothing against the man, and no doubt he's a class-a chef and I wish him success, but he's as much of a cultural 'Finn' as Obama is 'a cultural American'. I doubt that he even speaks Finnish.
H/T: Fjordman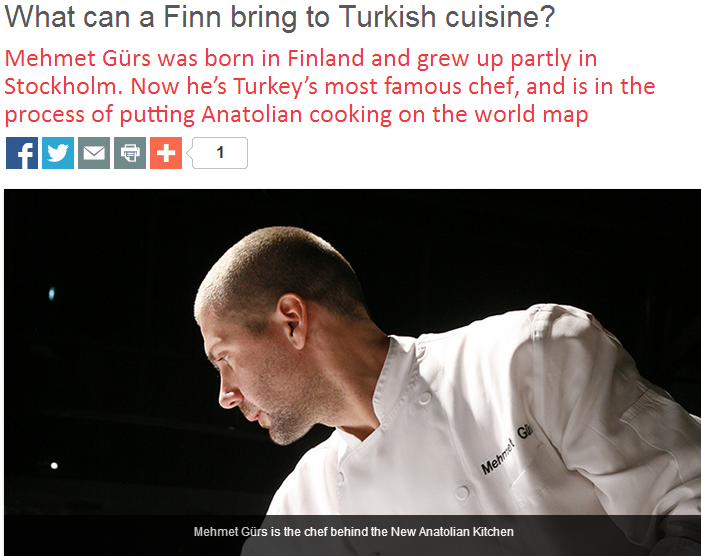 Mehmet Gürs admits that, "sometimes I look at myself and don't know who I am, or where I'm from". But he knows what he's doing. Through his restaurant Mikla, often cited as the best in Istanbul, he's trying to create a 21st-century food movement based on traditional cooking from Asia Minor. Since he pioneered the New Anatolian Kitchen last year, it's easy to trot out the much-parroted line that he's Turkey's answer to Noma'sRené Redzepi.
Gürs was born in Tammisaari, Finland, to a Turkish father and a Finnish-Swedish mother, and his schooling was split between Stockholm and a French school in Istanbul. He pulled out of medical school and spent eight years training in the US as a chef, before returning to Istanbul in 1996 to open Downtown, a 40-seat American-influenced restaurant.
"My girlfriend (now wife) and I were in Boston, and considering going somewhere with sunshine and good waves, when we both got phone calls from relatives saying we should move to Istanbul," he says. "When I came back, I had no idea what Turkish food was." That changed with his second restaurant, Lokanta, a brick walls and no-tablecloths kind of place that revelled in its own rusticity. (A lokanta is the equivalent of the Italian locanda, or inn.) Through it, Gürs learnt from his local chefs – as he puts it, "foie gras and caviar didn't seem right when I realised there were so many honest ingredients around".