Wilders: Moderate shmoderate.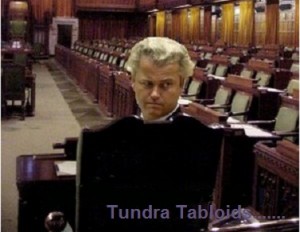 UK: World Muslim Leader Condemns Geert Wilders' Latest Attack on Islam
The Khalifa of Islam and the worldwide head of the Ahmadiyya Muslim Community, Hazrat (His Holiness), Mirza Masroor Ahmad denounced the Wilders' action saying the politician's "provocative acts can only further destabilize the world and destroy its peace and harmony."
Ahmadiyya Times | News Watch | UK Desk
Source/Credit: Ahmadiyya Times
By Imran Jattala | December 21, 2013
The leader of the PVV Party in Holland, Mr Geert Wilders, has up the ante 'in a highly disturbing and provocative act' against Isalm, the worldwide Ahmadiyya Muslim Community has charged.
According to Dutch News, the politician has placed a sticker on his parliamentary office door which reads, in Arabic, 'Islam is a lie, Mohammed is a criminal, the Koran is poison.' The insulting sticker, the news outlet said, "is a deliberate take-off of the Saudi Arabian flag.