Chuck Schumer is a schmuck in every sense of the word on domestic issues, but here he gets it right, his being 'a Jew' (in opposing the highly counterproductive Iran sanctions bill that will in the end prove detrimental to US interests) is entirely immaterial, he's supporting US interests first.
Laura Rozen is doing the exact same thing as Finnish politician (National Coalition/Kokoomuus), Pertti Salolainen, in his anti-Semitic rant a year ago on Finnish state TV, when his said: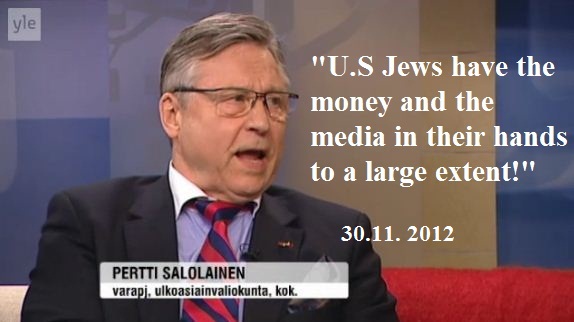 NOTE: These pernicious lies of dual loyalty need to confronted whenever and wherever they crop up, Salolainen of course went even further to add a couple of other anti-Semitic tropes to the mix, and all on state TV, and then cried victim when he faced international condemnation.
Rozen: 'Jewish Senators' Hold Sway on Iran Debate
Al Monitor reporter has history of controversial statements about Jewish politicians
BY: Adam Kredo

Foreign policy experts criticized reporter Laura Rozen for tweeting, and then deleting, controversial remarks about Jewish influence in American politics, the second time in recent weeks she has made such remarks.
Rozen, a former reporter for Politico and current reporter for the Middle East news site Al Monitor, got in a Twitter spat Thursday evening with a prominent American Jewish community official after he criticized her for suggesting that the Jewish religious affiliation of some senators influences their policy making decisions on Iran.
Rozen was criticized for her remarks by a number of Twitter observers, who said they are reminiscent of the longstanding anti-Semitic trope that Jews have dual loyalties.
This is the second time in recent weeks that Rozen has deleted tweets after coming under fire for controversial comments about American Jews and Israel.
The Twitter outbursts have led some in the Jewish community and elsewhere to express concern about Rozen's views of Jewish people and their presence in the foreign policy debate.
The latest argument erupted at about 10:00 p.m. Thursday, when Rozen tweeted that four "Jewish" senators were opposed to a new bipartisan Iran sanctions measure that has already garnered widespread support in the Senate.
Rozen went on to say in a since-deleted tweet that Jewish senators hold sway over their non-Jewish counterparts on the issue of Iran.