And they still do, albeit from a totally Islamic perspective.
In my opinion, anyone who wants to deem themselves 'knowledgeable" on the Nazi link with the Pan Arab movements of the late 20's, 30' and 40's, has to have already read the work on the subject, by Andrew Bostom. There is no other shortcut around the historical issue, you have to have read Bostom's work in order to formulate an educated opinion.
NOTE: It was the Mufti's reliance on canonical Islam that drove him and like ilk to find soul mates within national socialism.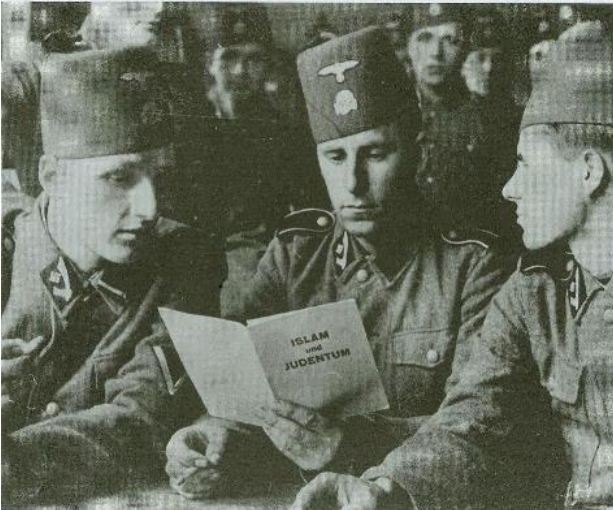 H/T: Danny Kligman
PLO Official: We Supported the Nazis in WWII
Former political bureau head of the Palestine Liberation Organization (PLO) removes any doubt over Arab support for Nazi Germany.
If anyone has had doubts about the Palestinian Authority's (PA) support for the Nazis, recent remarks by one of its leaders should make things clearer.
In an interview with Russia Today TV on December 7, Farouq Qaddoumi, the former political bureau head of the Palestine Liberation Organization (PLO), said that Arabs were "enthusiastic supporters" of the Nazis during World War II.
The remarks were translated by the Middle East Media Research Institute (MEMRI).
"I don't think it would be wrong to say that we were enthusiastic supporters of Germany," Qaddoumi said in the interview, when asked by the interviewer, "Were you sympathetic with Nazi Germany in WWII?"
The interviewer, seeking to clarify, then said, "You supported Hitler and his people." Qaddoumi replied, "Germany, yes. This was common among the Palestinians, especially since our enemy was Zionism, and we saw that Zionism was hostile to Germany, and vice versa."
These remarks are just the latest evidence of the Arab support for Nazis and for genocide of Jews.
Recently, MEMRI posted clips from two separate rallies at Al-Quds University, in which Islamic Jihad members, cheered on by other students, take part in a live performance at which they brandish imitation assault rifles and black Islamist flags, and give Nazi salutes.
The live "show" features terrorists killing Israeli soldiers and executing a "collaborator", who is denounced as a "traitor" and a "spy", and suggests that the initial pictures, which were first released by British journalist Tom Gross, were not from a one-off incident but evidence of a much wider phenomenon.
Many Israelis point to the lionization of Nazi and other anti-Semitic figures as a reason to doubt the sincerity of the Palestinian Authority's commitment to any future peace agreement.
Just this past October, for example, Jewish motorists were horrified to see a Nazi flag flying over a major thoroughfair near the Arab town of Beit Umar. The flag had apparently been placed there by residents of the town, located near Hevron.
That incident was in fact the second occasion in which Beit Umar residents had flown a Nazi flag over the same highway, in an apparent "gesture" to their Jewish neighbors.
Later that same month, a youth magazine linked to the Palestinian Authority published a list of "famous quotes" from none other than Adolf Hitler, aimed at glorifying the Nazi leader.