The very people ending up being armed by the US, if Obama had his way.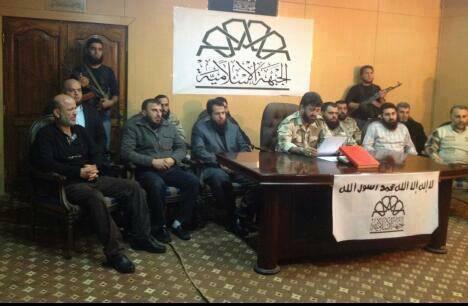 Syrian rebel leader was bin Laden's courier, now Zawahiri's representative
By THOMAS JOSCELYN
December 17, 2013
A senior al Qaeda operative known as Abu Khalid al Suri is a leading figure in Ahrar al Sham, a Syrian extremist group that is part of the recently formed Islamic Front. Al Suri's real name is Mohamed Bahaiah.
Bahaiah is a longtime al Qaeda operative who worked as a courier for the terror network. Spanish authorities think he may have delivered surveillance tapes of the World Trade Center and other American landmarks to al Qaeda's senior leadership in Afghanistan in early 1998.
In addition to being a senior member of Ahrar al Sham, Bahaiah today serves as Ayman al Zawahiri's representative in the Levant.
Ahrar al Sham is not one of al Qaeda's two official branches inside Syria, which are the Al Nusrah Front and the Islamic State of Iraq and the Sham, or Levant (ISIS) . But Ahrar al Sham has closely cooperated with the al Qaeda affiliates on the battlefield even while engaging in a very public dispute with ISIS.
Bahaiah's role in Ahrar al Sham has been confirmed by two US intelligence officials contacted by The Long War Journal. One official noted that while Bahaiah is not the emir or overall head of Ahrar al Sham, he is considered a central figure within in its ranks and plays a significant role in guiding the group.
Other al Qaeda operatives hold key positions within the extremist organization as well, according to the US officials.
More here. Via Weasel Zippers